17th annual Wildland Fire Academy wraps up in Prescott

Originally Published: March 14, 2019 9:41 p.m.
Fire season is almost upon us, and some would say it is already here, as evidenced by the Jan. 22 fire along Highway 89A in Prescott Valley.
Area residents have been in extra good hands for the past week with nearly 1,000 firefighters calling Prescott home during the 17th annual Arizona Wildfire & Incident Management Academy.
The academy is being held through Friday, March 15, at Embry-Riddle Aeronautical University. It has 46 different classes, 887 students from 22 states and the District of Columbia, and approximately 100 volunteer instructors as it prepares everyone for the upcoming season, from the seasoned veteran to the new wildland firefighter, according to public information officer Punky Moore.
The basic wildland firefighter course (S130/190) teaches students the basics of wildland fire behavior, from risk management to actual construction of fire lines on the campus.
"I love giving back and teaching new students the things I wish I would have known when I started in the fire service," said instructor Katie Markey, formerly from Tucson but now assigned to the Lake Tahoe area of Nevada and California.
New student Drake Becka from Baltimore, Maryland, said, "I have learned to be present in the moment for situational awareness and to listen to my fellow crew members and instructors."
The four classes of new students each had three to four instructors to help show the new wildland firefighters the "how to's" by the book in a classroom setting. The instructors also show the students ways how to save their energy as they dig line, to work efficiently and work together as a team to achieve an objective.
The academy held its annual Tribute Night at the Prescott Resort where more than $20,000 was raised for scholarships to the 2020 academy through a silent and live auction.
Two yearly awards were also handed out at Tribute Night. Buck Wickham received the Herb McElwee Loyalty Award for his 17 years of service to the academy. "All these years I threw out nuggets of knowledge not knowing if anyone would catch them; well, it looks like a lot of them benefited from them," Wickham said.
Bureau of Land Management's Rob Roy Williams was named the 2019 Southwest Wildland Firefighter of the Year. He was specifically recognized for his commitment to community service, going beyond the call of duty and making positive contributions to the fire service as a member of the BLM team.
Photo Gallery
2019 Arizona Wildfire Academy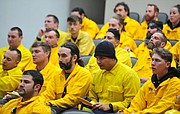 More like this story
SUBMIT FEEDBACK
Click Below to:
This Week's Circulars
To view money-saving ads...