Prescott High to have required Freshman Academy for 2019-20 school year

By
Nanci Hutson
|
HutsonNanci
Originally Published: March 13, 2019 8:53 p.m.
The high school years produce a mix of both anticipation and anxiety.
The move from elementary and middle school years into the final four years of one's educational maturity is a time when college and career beyond the classroom loom large. Teenagers' independence is both a blessing and a curse. Parents, teachers, coaches and administrators all want to direct their energies and creativity in directions that will enable them to embrace success in school and in life.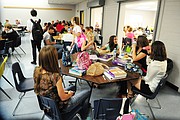 Such is why Prescott High intends to implement its first Freshman Academy this fall — a half-semester required course for all freshmen that will count as part of their electives. Freshmen will still have two other electives over the course of their first year.
The brainstorming behind the launch of this new program — a similar voluntary program proposed for the 2017-18 school year aimed at-risk students never materialized — suggested the skills and opportunities that this course will unveil would prove beneficial for any high school newbie, High School Assistant Principal Clark Tenney said. This academy will be modeled after ones at both Chino Valley High School and Bradshaw Mountain Valley High School.
To accommodate all the freshman students, the plan is to have five sections each semester, with Jennifer Wood, the head of the Career and Technical Education program, teaching two or three sections and United States Air Force Retired Lt. Bill DeKemper, who heads up the Air Force JROTC program, teaching at least one section. The last will be taught by a freshman teacher based on schedules.
The academy, as well as some additional course offerings next year, are viewed as cost-neutral opportunities, district administrators said.
Through the academy, the JRTOC program for the first time will be open to freshmen, with an option to extend the required time to a full year, with the second semester counting as a physical education credit. This change will be a benefit to both the students and the JRTOC program that needs to maintain a 100-student enrollment to keep its affiliation with the military that assists with some of its costs.
Yet, the true mission of the academy is to bond freshmen with their school; to instill Badger pride in each and every new student through relationships with their peers, teachers, and other adults who can become resources over the course of the next four years, district leaders said.
Beyond helping freshmen navigate the demands that come with high school life, the academy will expose them to the variety of opportunities and resources they have to stretch their intellect, their creative self and acquire new hobbies and leadership roles, Tenney said.
The high school offers a variety of courses that can earn students advanced placement credits or even earn them dual college credit, as well as many electives they can explore over the course of their four years that range from musical theater to visual arts, Tenney said. Students will learn how they can be part of the high school band and sports programs, as well as hear from other students about such things as how to join Student Council, become a player with the award-winning Academic Decathalon team, or assist other students with peer tutoring opportunities, he said.
The academy will include several exploratory sections: exploratory life connections, exploratory geography, exploratory drama and digital media, to name a few.
Freshmen will learn how they can become the next "Early Birds," a program that enables students to take a class before the official start of school. They, too, will get information about online opportunities that are able to help students with both credit recovery and earning extra credits.
New Prescott Unified Governing Board member Connie Donovan sees the academy as a good tool for these students, particularly as it will be a credit course. She likes most that students will get a head start on the use of the Naviance career and guidance tool, as will their parents, and that there will be instruction related to personal finance.
The academy was unveiled to the five-member Governing Board at its regular meeting on March 5. The board members voted unanimously to approve the academy as one of the high school's new courses.
"At first, I was a little dubious, but I never had the experience of a district offering students actual credit," said Donovan, a former educator. "So this really means the content has to be, and will be, really relevant to them. I think it's going to be a really good program."
District leaders want to assure no student is left out of the loop, be it finding the schedule for homecoming spirit week or lunch periods, purchasing a parking pass or knowing who to go to about a lost jacket or forgotten locker combination, administrators said.
School leaders want each freshman to find a niche that will enrich their high school experience, connecting them with peers, teachers and other resource adults able to help them travel the path from freshman to graduate, Tenney said.
"It's exciting," declared Governing Board President Tina Seeley.
More like this story
SUBMIT FEEDBACK
Click Below to: