County falls shy of top on list of highest paid administrators in state
Originally Published: March 13, 2019 9:16 p.m.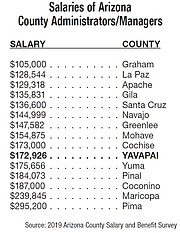 The paycheck that one of Yavapai County's highest paid employees receives is not in the top tier of county administrator pay in Arizona.
In fact, while Phil Bourdon's salary is not the most, it does fall somewhere in the upper middle of the pack, according to a study by the Arizona Association of Counties and information The Daily Courier received locally.
The association recently released the study, which broke down the salaries of county employees within the state. Of all those listed, Pima County Administrator Chuck Huckleberry makes the most — compared to his government colleagues — with an annual salary of $295,000.
Yavapai County Administrator Phil Bourdon's annual salary is $178,165.94, according to Yavapai County Human Resources Department.
"Yavapai County actually conducted a study recently and found that our salaries were in line with the work they are doing," said Bourdon, who declined to comment further.
Bourdon and other Administrators
The terms "county administrator" and "county manager" are interchangeable for a position that does the same thing, based on the study. In a broad overview, a county administrator/manager focuses on the creation of policy and oversight of the budget for their county and the board of supervisors. They also work with department heads and staff to carry out the day-to-day business of county government.
Joy Rich, manager of Maricopa County, makes $232,856 annually, according to the Phoenix Business Journal. Rich makes $54,690.06 per year more than Bourdon, who does make more than nine other county administrators/managers in Arizona. The lowest paid county manager in the state is Dustin Welker of Graham County. He earns $105,000, according to the AAC study.
Bourdon does not have the highest salary in Yavapai County either. Wendy Ross, Yavapai County Human Resources and Risk Management director, said the Medical Director and Medical Examiner who work in the county's health clinic make more than Bourdon. The Medical Director is paid $187,000 annually and the Medical Examiner makes $210,000 yearly.
What does Bourdon do?
Bourdon's primary duties consist of working with the Board of Supervisors to develop and administer Yavapai County's budget. He also works with various legislative items and collaborates with officials from cities and towns in the county.
Bourdon also helps those cities and towns with projects and agreements between their governments, Yavapai County and the Board of Supervisors.
"It is fun every day," Bourdon said. "There is something new every day that comes through our office that needs our attention."
Bourdon has worked for the county for 23 years. Before taking the administrator job, Bourdon was a civil engineer and eventually became director of the Public Works Department.
It was in 2012 that the Board of Supervisors appointed Bourdon as the interim administrator. That year also happened to be an election year, so there was some change to the board, he said.
After the changeover, the new board appointed Bourdon as county administrator.
Bourdon, department heads
The department head with the salary closest to Bourdon is Scott Mabery, director for the Yavapai County Juvenile Court who is paid $133,206.07 — which is $44,959.87 less than what Bourdon makes.
After Mabery is Michael Holmes, director of Technologies ($125,486.15), then County Attorney Sheila Polk ($123,678).
The members of the Board of Supervisors each make $63,800.00 annually — a wage that is set by the state.
More like this story
SUBMIT FEEDBACK
Click Below to:
This Week's Circulars
To view money-saving ads...