Williams, Eagle women take golf titles
College Golf
By
Doug Cook
|
dougout_dc
Originally Published: March 12, 2019 11:42 p.m.
PRESCOTT — Embry-Riddle women's golfer Jessica Williams won the individual title in the four-team ERAU Spring Invite on Tuesday, March 12, guiding the Eagles to victory in the tournament's final round at a cold, windy and rainy Antelope Hills Golf Course.
On the South Course, Williams shot a three-round total of 1-over 217 (73-70-74), outpacing runner-up Ellen Kehoe of the University of Pikeville (Kentucky) by seven strokes (76-77-71=224). Embry-Riddle's Kendall McBean (71-77-78=226) and Elle Carlson (72-75-79=226) finished tied for third.
ERAU coach Mike Haddow said he was impressed with Williams, who played well despite missing a few short putts, and McBean.
"She, obviously, is very solid," ERAU coach Mike Haddow said of Williams' play on behalf of head coach Kim Haddow. "Playing within the rain that we had, her 74 in the final round is a very, very good score. She drove the ball very well. Her proximity to the hole on her irons was very good."
The Eagles' Megan Hessil (76-77-76=229) and Nicole Lopes (74-79-77=230) placed fifth and tied for sixth, respectively. ERAU's Tana House, competing individually, was 12th (93-82-83=258).
In the final team standings, NAIA Embry-Riddle cruised to the win with an 894 total score (260-299-305=894). Pikeville was a distant second at 945 (321-314-310). Susquehanna University of Pennsylvania (395-382-366=1,143) was third, and Soka University of California (480-466-462=1,408) was fourth.
"The scoring conditions were tough, but it was still able to score," added Haddow, praising course supervisor Jerry Walsh for his work at Antelope Hills. "The women's team is starting to round into form. We don't have one score in the 80s right now, and that's very good golf for a team."
MEN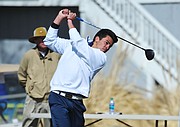 Embry-Riddle's men's team placed fifth out of six squads at the ERAU Spring Invite, led by Zach Johnson, the squad's second alternate who played as an individual and tied for third in the final standings at 2-under (68-70-76=214).
Haddow said all eight to nine of his men's players are similarly bunched with their scoring this season, shooting anywhere from 75 to 78 in a round on average. Johnson agreed.
"We're all so close as it is, and I did do pretty poorly in the last day of qualifying," Johnson said. "So, I definitely wanted to do as well as I can to get back up into the Top 5 [on the team]."
Johnson said he performed better this week because he sharpened his mental focus. He excelled in his short game, too.
"I was not hitting it very well, but I was making some good putts," he added.
Kyle Peterson and L.J. Kruszewski tied as the leading scorers for the Eagles on Tuesday, each tallying a 224 total.
"Zach came in and had a very, very good tournament," Haddow said. "Kyle Peterson has played really steady for us. And L.J. Kruszewski is really coming on right now for us as a player."
The Eagles would have contended for the invite's title if Garrett Hogan, the team's No. 2 golfer and its leading scorer on the season, hadn't had a disqualified score in the second round. He mistakenly signed his name to a wrong score. Hogan shot a 73 in the first round and a 75 on Tuesday.
"We need to get it about three or four strokes lower per man, and that would put us in the hunt [to win a tournament]," Haddow said. "But it's a work in progress."
UP NEXT
The Embry-Riddle men and women will head to the highly competitive annual Battle at Primm tournament Monday, March 18, and Tuesday, March 19, at Primm Valley Golf Course in Primm, Nevada.
While there, Haddow said he wants to start identifying which five players will form the final grouping for his men's team before the Cal Pac Conference Tournament April 8-10 in Tahoe, California.
"That [Primm] tournament will help us do that," Haddow added.
Said Johnson, "Not doing too well in our own home event is really going to inspire us a little bit to do better. And we're actually in a pretty good place to do so."
The goal for the Eagles women at Primm is more clear-cut, however.
"With the women, we want to see where we stand," said Haddow, referring to the other NAIA schools that will be competing at Primm. "It's going to be a very good field."
Doug Cook is a sports reporter for The Daily Courier. Follow him on Twitter at @dougout_dc. Email him at dcook@prescottaz.com or call 928-445-3333, ext. 2039.
More like this story
SUBMIT FEEDBACK
Click Below to:
This Week's Circulars
To view money-saving ads...