Small grants provide big outcomes for students
Humboldt teachers report on mini-grants from Yavapai County Education Foundation

Originally Published: March 12, 2019 9:34 p.m.
Thanks to the generosity of the Yavapai County Education Foundation, 11 classrooms in the Humboldt Unified School District (HUSD) are providing additional opportunities for students, including sending home recorded books with students, K'NEX kits that teach coding, equipment to film school announcements, tiny bots, and manipulatives for students with motor skill difficulties.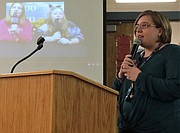 At the March 5 HUSD governing board meeting at Coyote Springs Elementary School (CSES), six teachers described how they used grant funding to improve their classrooms.
Yvonne Berry, CSES second-grade teacher, used her grant money to encourage "reading with excitement" in which students can take home a backpack with headphones, CD player, and recorded books.
"Some students don't get read to nightly," Berry said, adding that some live with grandparents, and other students have not yet achieved reading fluency. "We're hoping taking books home will become a part of family life," she said.
The second-grade classrooms have eight backpacks — two for each teacher — and students can select from 60 titles.
Poppy Keegan, the school's STEM teacher (science, technology, engineering, math), received $485 in grant money to buy small round "robots" to help kindergarten through sixth-grade students learn coding. The younger students have simple lessons, and coding will take place at the upper grade levels.
"There are lots of different ways to apply these to lessons," Keegan said. She will roll out the robots after spring break.
Desiree Clark's sixth-grade students are engaged in the Coyote Springs Network, which produces the school announcements. Her grant money, $312, bought new equipment that will be used to edit videos.
Coyote Springs is celebrating its 25th birthday, Clark said, and her students are working on a documentary by interviewing a variety of people. The new equipment will be very helpful, she added.
Kimberly Pittman, extended resource teacher, bought manipulative supplies with her $499 mini-grant to help strengthen visual abilities for students with motor skill difficulties. Students use colored letter tiles to create words on magnetic boards, which may be easier than using writing utensils.
"It may seem like simple things, but they are making a difference," Pittman said about the new equipment.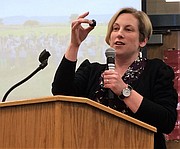 Lisa Grell, preschool teacher with Bright Futures, bought chairs and tables for smaller children in the classroom after noticing the typical 21-inch table height was too tall for some students to sit at comfortably. The classroom now has 16-inch high tables and 8- and 10-inch high chairs. "They can all sit with their feet flat on the ground, and get in and out of their chairs independently," Grell said.
Amanda Maxwell, art teacher at Bradshaw Mountain Middle School, was helping with the Youth Art Festival preparations and unable to attend the board meeting. Her $500 grant money went toward a collaborative field trip to Red Rock State Park in Sedona. Students participated in geologic drawing activities, science, and learning about natural environmental conservation.
Board President Ryan Gray acknowledged the time and effort teachers gave to writing the grants. "I'm struck by the creativity of these teachers in making use of the dollars, and the thought and effort they put into them," Vice President Rich Adler echoed.
Founded in 1994, YCEF provides funding for creative and innovative learning projects that will impact student learning and achievement. Visit ycefoundation.com for information.
In other business, the board approved acceptance of a $770,000 grant through the Arizona Lower-Emission School Bus Program, which will partially pay for the replacement of seven older buses in the district fleet. The diesel engine buses selected for replacement are 25 years or older, with more than 300,000 miles each.
Yavapai County received 22 buses total, with seven going to Humboldt Unified School District, said Dr. Rob Bueche, executive director of Federal Program and School Innovation. The district will provide $340,000 to make up the difference in cost in the two-year process for purchase and reimbursement, he said.
"It's definitely long overdue," said Corey Christians, board member.
More like this story
SUBMIT FEEDBACK
Click Below to: