More than 300 students in Chino Valley homeless
Host homes a way to help, says family resource specialist

Originally Published: March 12, 2019 7:31 p.m.
Updated as of Wednesday, March 13, 2019 1:29 PM
Two students in the Chino Valley Unified School District have been homeless since October, after their mother got remarried.
"Her new husband had two younger children so when they got married, the mom said, 'You have to move out, we don't have room for you anymore,'" said Laurie Marley, family resource specialist for the district at the Chino Valley Area Chamber of Commerce luncheon Wednesday, March 6. "Since October, these two girls have stayed with four different families."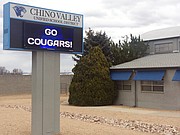 These students are not alone. Out of the 2,500 students within the district, 325 of them are homeless, Marley said. Most of them are doubled up living with another family while some live with their grandparents, relatives or friends, a few of them are unaccompanied and two are currently living in a motel, she said.
Marley said her job is to identify the homeless children in the district and supply them with the things they need in order to have the same opportunities for the same education as provided to the other students. This is stipulated by the McKinney-Vento Homeless Education Assistance Improvements Act of 2001:
"Homelessness alone is not sufficient reason to separate students from the mainstream school environment," the act states. "Homeless children and youths should have access to the education and other services that such children and youths need to ensure that such children and youths (sic) have an opportunity to meet the same challenging State student academic achievement standards to which all students are held."
With no local school funding for the Homeless Program coming in — money from McKinney-Vento, Title One funding going to support Marley's part-time position to work with the children and their families as well as coordinating transportation and the free lunch from the National School Lunch program — the district's Homeless Program relies purely on donations. Donations can be monetary or items necessary for the students' success.
Monetary donations can be made to the Chino Valley Unified School District and designated for use by the Homeless Program.
Tax credit donations also can be made to the Chino Valley Education Foundation and designated for the homeless program as well.
A single person can donate up to $400 and a married couple up to $800 in addition to tax credit donations already given to the schools, Marley said.
There's also host homes, which Marley said she recently started. People can either host an unaccompanied student or families.
"A host home can be the home that you live in or it could be a camper on your property with hookups, a guest house or rental that you own," she said. "If you choose to host an unaccompanied student, usually he or she is 18 … he or she will not be able to pay rent but will be able to help with chores."
Families who are hosted might be able to pay some rent and will be able to help with chores around the house, Marley said.
There are some things to consider before hosting a student or a family, she said. Those aspects include how your family would feel, who you would like to host and for how long, concerns that you have, what you would be able to offer and what you would expect in return, Marley said.
It takes courage, commitment and perseverance, it's not easy and won't always be fun and hosts will spend money and not make money, she added.
"I do have two students living in a camper that belongs to a retired teacher right now," Marley said.
"She will tell you it's rewarding but not easy."
Marley said she has nine unaccompanied seniors and is down to two host homes. There were previously four, she said.
For more information about the Chino Valley Unified School District's Homeless Program, contact Marley at 928-5835422 or at lmarley@chinovalleyschools.com.
In addition to monetary donations, the Chino Valley Unified School District's Homeless Program also relies on the donations of items necessary for the students' success.
Here's what is needed:
• New toiletries: deodorant, soap, shampoo, toothpaste, toothbrushes, nail clippers, brushes, combs, toilet paper, tissues, lotion;
• Sanitary products for girls;
• New socks and underwear for girls and boys;
• New or gently used (clean) winter coats, jackets, scarves, hats, gloves and children's clothing;
• School supplies: two-pocket folders, spiral notebooks, college ruled filler paper, crayons, glue sticks, pencils, pens, child-sized scissors, colored pencils, markers, erasers;
• New or gently used (clean) towels and washcloths, pillows, blankets;
• Laundry soap in small packages, dish soap, Clorox wipes;
• Grab & go type foods: breakfast bars, peanut butter, jelly, crackers, canned meat, tuna, cheese and cracker snacks, individual applesauce and fruit cups;
• Gift cards to local restaurants (McDonalds, Taco Bell, Sonic, Pizza Hut, Little Caesars and Subway) in $5 to $10 denominations are also good for high school students on their own.
More like this story
SUBMIT FEEDBACK
Click Below to: