Epps, Obasohan lead NAZ Suns rout of Legends
NBA G League
Originally Published: March 10, 2019 6:48 p.m.
PRESCOTT VALLEY — Everything went right for the Northern Arizona Suns on Sunday, March 10, and on the surface, nothing seemed to go poorly. That sounds like a good recipe for success.
The Suns led wire-to-wire and set multiple season highs at the Findlay Toyota Center, as they stomped the Texas Legends 135-105.
The Suns scored a season-high, held their largest lead and earned their largest margin of victory of the year, taking the series 2-1 against the Legends. The Suns (11-34) have won back-to-back games and four of their last seven. The Legends (15-30) lost their 16th straight road game, tying the fifth longest road losing streak in NBA G League history. They haven't won away from home since Nov. 30 at the Santa Cruz Warriors. They're now 2-21 on the road this season.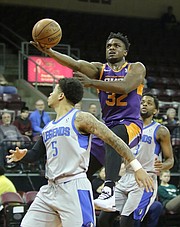 Aaron Epps and Retin Obasohan both turned in massive performances in the Suns' win. Epps scored a career-high 29 points on 12-of-18 shooting, including 5-of-10 from distance, to go with 13 rebounds, three steals and a block. This was his ninth double-double of the season, the most on the team. Obasohan became the second Suns player to achieve a triple-double in team history (Josh Gray had three in his Suns' tenure), with 15 points (5-7 FG, 5-6 FT), 12 assists, 11 rebounds and three steals. Obasohan set career-highs in both rebounds and assists.
The Suns jumped all over the Legends right away, taking a 17-2 lead. At the 3:03 mark in the first quarter, the Suns already had their largest lead of the season at 25, surpassing a 24-point lead held at Canton on Jan. 15. That lead would eventually grow to 34 in the third. NAZ won the first quarter 38-14, making 11-of-16 (.688) shots and forcing a 4-of-22 (.182) clip from Texas. The Legends would get as close as 17 points in the fourth, but this one was well-in-hand from start to finish by Northern Arizona.
The Suns shot 47-of-86 (.547) from the field, improving to 8-3 this season when making at least half their shots. They made 16-of-40 (.400) from distance and 25-of-30 (.833) from the charity stripe. The Legends finished 37-of-87 (.425) from the floor. The Suns set a team-record in assists, earning 38 of them, surpassing their 35-assist night versus Sioux Falls on March 23, 2018. Texas had just 15 assists, meanwhile. Northern Arizona also outrebounded Texas 48-37.
Seven Suns scored in double figures, including all five starters. George King recorded 19 points on 5-of-11 shooting (4-8 3PT, 5-6 FT), six assists, three rebounds and two blocks. Daxter Miles Jr. led the bench with 19 points (7-10 FG, 3-5 3PT). Hollis Thompson tallied 16 points on 6-of-8 shooting and seven rebounds, recording his 1,000th career NBA G League point in the process. Elie Okobo had 14 points and seven assists in his first NAZ Suns game since Dec. 21. Daniel Dixon scored in double figures for the first time since Dec. 21 with 13 points (5-10 FG, 3-4 3PT), adding three rebounds and three assists.
The Legends were shorthanded with only eight available players in the game. Billy Preston came off the bench to lead his team in scoring with 21 points, adding seven rebounds. Daryl Macon (18 points, four assists, three steals) and Vander Blue (17 points) also turned in good games, while DeAndre Daniels recorded a double-double (12 points, 5-9 FG, 11 rebounds).
UP NEXT
The Northern Arizona Suns will play their second installment of the season-ending six-game homestand on Tuesday, March 12, against the Agua Caliente Clippers at 6:30 p.m. The Legends head back home for three games, starting Tuesday against the Oklahoma City Blue at 5 p.m.
Information and photos provided by the Northern Arizona Suns.
SUBMIT FEEDBACK
Click Below to:
More like this story