Prescott Valley couple desperate for a kidney as husband's ailment worsens
Dial 928-899-9355 to save a life

Originally Published: March 9, 2019 10:03 p.m.
Updated as of Monday, March 11, 2019 10:42 AM
Editor's Note - This story has been updated to add Rocco's blood type is O positive, but he is compatible with several other blood types, too.
Elaine and Rocco Giordano are praying that it pays to advertise — Elaine's plea printed across the back of the couple's four-door white Chevrolet hatchback is a life-or-death proposition.
"MY HUSBAND NEEDS A KIDNEY 928-899-9355."
Two weeks ago, Elaine opted to craft the message she hopes just might attract a living donor.
The National Kidney Foundation says that every month more than 2,000 names are added to the national waiting list. About 16 or 17 people die each day waiting for a vital organ such as a kidney, heart or liver.
For more information about organ donation, visit the the National Kidney Foundation website: www.kidney.org
The reason?
"Desperation," Elaine said from Houston, Texas, where the Prescott Valley couple went to get on a transplant list at that city's VA Medical Center.
Rocco is a 66-year-old United States Army Vietnam veteran who in 2008 was diagnosed with a kidney ailment that reduced his function to between 30 and 40 percent. Otherwise, the retired Brooklyn native who spent his career in material logistics in the aerospace industry was in near-perfect health.
The father of two adult children and four grandchildren is a sharp-witted gentleman who likes to travel and savor new adventures. What he couldn't predict when first diagnosed was the journey he would be forced to travel because of his slowly failing kidneys, with time proving an enemy with those organs.
Five years ago, Rocco and Elaine married in Lake George, New York. The natives of New York City met while living in Long Island; Elaine is a mother of four children, one son now deceased, and seven grandchildren who worked in the Suffolk Sheriff's Department before her retirement.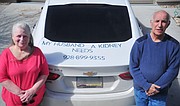 After the wedding, the two packed up and moved out to Prescott Valley. Their plan was to travel and enjoy their twilight years together – and they were in the midst of that when three years ago Rocco's kidney function declined to 18 percent.
He was forced to start a three-day-a-week, 3½-hour dialysis regimen — the routine to which Rocco is faithful inhibits the couple's ability to visit family on the East Coast.
Even with the dialysis, Rocco's kidney function has continued to slip. His kidneys now function at about 7 percent.
So the couple started a search for a kidney, getting on the VA lists as well as at the Mayo Clinic in Phoenix. They prefer a living donor as the kidney lifespan is longer — 16 years versus 11 for a deceased donor — but will accept any suitable offer.
Rocco's blood type is O positive, but he is compatible with several other blood types, too.
No family has yet emerged as a match.
The couple crafted fliers, and hand them out anywhere they do go.
The Mayo Clinic four months ago alerted him of a potential donation. For various reasons, the kidney went to someone else on the list.
Rocco is confirmed as a patient at the local VA who stays in regular contact with their transplant coordinator – the Prescott VA campus does not perform the transplants but will do all the initial blood work and screenings for any potential donor at no expense to that individual, said the couple and VA officials.
Indeed, Elaine is clear any donor will incur virtually no expense, nor will their caregiver.
The nearest VA transplant center is in Portland, Oregon; the Mayo Clinic in Phoenix is closer and performs more than 350 transplants a year. The drawback of both facilities – the couple is also listed on the National Kidney Foundation registry – is that their waiting lists for donated kidneys is between five and seven years.
"We just need a body," Elaine said.
Donation information
The Mayo Clinic hails kidney transplant as a low-risk operation with long-lasting outcomes for recipient patients. Transplant recipients do require lifelong anti-rejection treatments; donors are usually able to return to normal routines within a few weeks.
Living donor donation is possible for kidney and bone marrow transplants, with the best results often from direct relatives.
His quick wit evident, Rocco chuckles that as they advertised their phone number to potential donors, solicitation calls seemed to follow.
When he would answer someone trying to sell him something, Rocco's standard reply was, "Do you have a kidney for me?" If they pause, or offer a negative response, he hangs up. No time to be bothered.
Their unorthodox public campaign may be a long shot — but Elaine said she will take any shot.
Indeed, it worked for a Paulden couple. A sign in a car window was spotted at a local gas station and ended up with a successful kidney transplant for Clint Russell three years ago. The Russells could not be reached for this story.
"This is an emotional rollercoaster we just both want to end very fast," Elaine said. "He's healthy otherwise. He gets a kidney and he's 18 years old again; well, maybe 30. I'm not sure."
The two try and stay upbeat, and do as much as they can without dwelling on the downside, but they both admit it is proving more and more difficult as his kidney failure becomes more and more acute. They hate that they will miss their granddaughter's christening and a godson's wedding in New York.
Elaine and Rocco appreciate any and all who might consider giving them a chance to do all the things they envisioned when they said their vows.
"We have a zest for life," Elaine declared.
SUBMIT FEEDBACK
Click Below to:
More like this story