Comic books, superhero films: How the movies affect sales
Originally Published: March 9, 2019 5:04 p.m.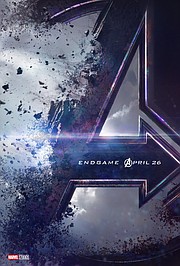 When a comic book film is released, it can create controversy, even more interest.
It would be safe to assume comic book sales increase and collectors' interests are piqued, especially for a character whom the movie is based on.
But that is not always the case.
NEW MOVIE AND SALES
Disney-Marvel Studios this past week released "Captain Marvel," a new film inspired by a character who has been around since 1968. Captain Marvel, the character, currently has a monthly comic book series and several trade paperback collections of various stories available.
In preparation for the new movie, Game On in the Prescott Gateway Mall added several Captain Marvel comics and trades to its stock.
"Pretty much every superhero movie that comes out we stock up on that particular superhero so that people can catch up on a little bit of the backstory so that if they are interested in the movie they can read about the character," Manager Jeff Tallon said.
Peregrine Book Company, in downtown Prescott, also sells comic books alongside its books, and stocks the current Captain Marvel comic book series and collections, Manager David Coupaud said.
"Usually the interest is increased," he said. "Frequently that can turn into increased sales, but a lot of the time we have consistent comic buyers who are already buying the same things so if they are already buying it, then we are staying pretty consistent."
The trade collections tend to sell better than single issues. People are more interested in collections because it allows a reader to experience a full story, Tallon said. Single issues are primarily for those who have a passing interest in the character and do not wish to spend the $15 to $20 on a collection.
Mostly teenagers come into Game On when a new Marvel film is released. Tallon said people come in before the next Marvel movie and ask what comics are available.
"People who suddenly decided, 'Hey, I want to read more of this character,' sure they come in and buy Captain Marvel or Black Panther comics, but it doesn't always translate into long-term interest in that particular character," Coupaud said.
Right before a film premieres is when Tallon said he will see more traffic in the store for a particular character. After the movie, the store will see a small bump as well and, depending on the quality of the film, there could be a bigger bump. Peregrine Book Company also sees a slight uptick in sales.
"It is mostly before, with a little bit afterward," Tallon said. "It tapers off till the next movie comes out, then generally all the comic books see a boost in sales, but specifically the one with the new movie sees a much larger bump than everything else."
COLLECTORS
Game On does not see people trying to sell their collections of comic books when the superhero's movie comes out. Neither does Peregrine Book Company, but the bookstore occasionally does get people trying to sell their old comics.
Two services, the Comic Book Certification Service and Certified Guaranty Company, will assess a comic and the condition the book is in and grade it on a 10-point scale. The comic will then be sealed in plastic after grading to protect it. An Amazing Fantasy #15 — the first appearance of Spider-Man — graded at a 3 from CGC is currently on sale for $17,999 on Mycomicshop.com, for example.
"Comics tend to appreciate separately from their media, aside from the boost in popularity that it gets," Tallon said.
When DC Comics released Action Comic #1000 in June 2018, Game On ordered five to six times its regular order of the book. The store sold out at one point and had to put in another order, Tallon said.
DC also published Batman: Damn #1 in September that featured a full frontal scene of the Dark Knight, which caused quite the stir. It sold huge at Game On, Tallon said. People wanted to get the issue not only because of the controversy, but also due to the new formatting style this Batman story was published in.
"When you are dealing with a huge controversy or the introduction of a new character or a new part of a long familiar character, certainly that will drive interest," Coupaud said. "I imagine that was more of an event for comic buyers than Captain Marvel."
Comic Book Events
March 27 – DC Comic releasing Detective Comics #1000
April 3 – Marvel begins its companywide storyline "War of the Realms"
April 4 – Free Comic Book Day
May 23 – Phoenix Fan Fusion starts

July 21 – San Diego Comic Con begins
Oct. 3 – New York Comic Con commences
Upcoming Comic Book Movies

April 5 – Warner Bros. releases "Shazam!"
April 12 – "Hellboy" comes out
April 26 – "Avenger: End Game" premieres
June 7 – "Dark Phoenix" concludes the last of the 20th Century Fox X-Men movies
July 5 – "Spider-Man: Far from Home" debuts
Oct. 4 – "Joker" will have a new clown prince of crime step into the role with Joaquin Phoenix
More like this story
SUBMIT FEEDBACK
Click Below to: