Year's first zoo camp March 11-15
Originally Published: March 7, 2019 10:30 p.m.
Kids have the chance to get up close and personal with their favorite animals at Heritage Park Zoological Sanctuary's first Zoo Camp of the year next week.
Offered three times a year in the spring, summer and fall, it's one of the zoo's oldest programs, said Education Coordinator Leah Wacks.
"It's been running pretty much constantly from the early days of the zoo," Wacks said. "I've been running it about eight years now.
A day camp running from 8:30 a.m. to 3 p.m. Monday through Friday, March 11-15, Zoo Camp allows children ages 6 to 12 to learn more about animals, get behind-the-scenes experience of the zoo, be up close and personal with their favorite animals, make fun crafts and play animal-themed games. The teenagers in the ZooTeen Program help as junior counselors.
The kids are having so much fun they don't realize how much they're learning, Wacks said. She mentioned one of the campers a few years ago who said they love zoo camp so much more than school because they didn't need to learn.
"I quizzed him on what we had been learning that week," Wacks said. "He was able to rattle off technical terms and all of the actual information that we had been learning and he didn't even realize that those were things that he had learned while he was in camp."
The overall theme for next week's Zoo Camp is "Extreme Animals," she said. It involves looking at things that make animals stand out, such as a porcupine's quills or a toxic toad's covering, Wacks said.
Registration ends Friday, March 8 and tuition is $175 for Heritage Park Zoological Sanctuary members and $200 for nonmembers with a $25 deposit required at the time of registration. Spaces are filled on a first come, first served basis.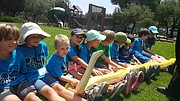 Wacks said she enjoys seeing the spark going off in the kids' eyes as they get excited about something. Sometimes there'll be kids who didn't know anything and they'll get excited because it's something with which they didn't have a lot of experience before, she said.
One example are the Madagascar Hissing Cockroaches. They can put them in the kids' hands and at first, they'll be scared and nervous because they've been taught that cockroaches are gross and scary, Wacks said. However, once they're taught the cool facts about them and that they're the one animal in the zoo that can't bite them, the fear evaporates, she said.
As a whole, Zoo Camp is an experience like nothing else, Wacks said. Most people love their pets, but the animals the kids get to experience at the zoo are those they wouldn't normally get to be up close and interact with to learn about, she said.
"A lot of the animals at the zoo are native animals," Wacks said. "You really get to experience and learn about the animals that are our neighbors and in our natural surroundings and learn how to coexist with them and interact safely and share and protect these animals in our ecosystem."
Heritage Park Zoological Sanctuary is located at 1403 Heritage Park Road. For more information or to register, call Wacks at 928-778-4242 ext. 18 or download the form at www.heritageparkzoo.org and email Wacks at lwacks@heritageparkzoo.org.

More like this story
SUBMIT FEEDBACK
Click Below to:
This Week's Circulars
To view money-saving ads...