Go over the rainbow this weekend with the 'Wizard of OZ.'

Originally Published: March 7, 2019 5:27 p.m.
You might be feeling you're not in Kansas anymore.
And you'd be right – you're in Prescott.
However, you're not the only one with that feeling as this weekend, One Stage Family Theatre has four showings of "The Wizard of Oz," at the Elks Theatre and Performing Arts Center, 117 E. Gurley St.
The show is directed by Nolan Sturdevant-Moylan who noted the amount of anniversaries he sees connected to the show in 2019, though some are more personal than others. This year is the 80th anniversary of the movie's release, the 120th anniversary of the book's release and the 10th anniversary of his family losing his grandmother, who Sturdevant-Moylan said is his connection to "The Wizard Oz" as he has good memories of watching the movie with her.
"She was one of the ones that got me into theater," he said. "Being able to put on a show that connected so well with her is pretty cool."
The shows on Saturday and Sunday, March 9-10, have a cast of 57 split up into an Emerald Cast performing at 3 p.m. Saturday and noon Sunday and a Ruby Cast taking the stag at 7 p.m. Saturday and 4 p.m. Sunday.
Very few of those in the cast said they've never seen the movie at auditions, Sturdevant-Moylan said, calling it "one of those staples everybody has in their collection to watch."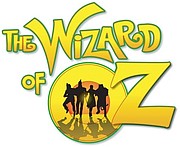 Pieces of it, such as the song "Somewhere Over the Rainbow" or Dorothy's quotes of not being in Kansas anymore and there being no place like home are so engrained in popular culture, too, he said. Everyone knows where those come from, Sturdevant-Moylan said. This show is adapted almost word for word from the movie too, he said.
Tickets are $20 for adults and $15 for seniors and children, available online at www.prescottelkstheater.com, by calling 928-777-1370 or at the door one hour prior to the performance.
It's also a diverse cast with a lot of the actors never having done theater before, Sturdevant-Moylan said. It's been enjoyable seeing them grow and fall into their characters. They have an entire family in the show, too, he said.
"We have a mom, dad, daughter and son," Sturdevant-Moylan said. "They're all in our show."
The thing that's difficult about doing "The Wizard of Oz" though is since so many people know it, there's only a small amount that can be changed, he said. It really has to be put out there as it is, Sturdevant-Moylan said.
Still, the cast is great and having so many actors meant they were able to help each other when needed, he said.
"The Wizard of Oz" isn't all One Stage Family Theatre is doing. They have a fundraiser going on all day Tuesday, March 12, at Peter Piper Pizza, 1911 E. Highway 69, where 15 percent of all food, beverage and token sales benefit the organization. There also is a tokens deal of 100 tokens for $20. Flyers for the fundraiser can be found at Lessons by Lexe, 3250 Gateway Blvd, Suite 206.
More like this story
SUBMIT FEEDBACK
Click Below to: