5 CCJ homeless clients 'ecstatic' over new cottage-model homes
Program aims to place 8 to 12 people by summer

By
Nanci Hutson
|
HutsonNanci
Originally Published: March 3, 2019 7:52 p.m.
On the walls of his magenta-colored cottage, James McNear pinned up a Prescott College kerchief and a Steve Nash Phoenix Suns basketball jersey. He decorated the space over his bed with a cross and a couple small Halloween lanterns.
The space is small – 10 by 12 feet – but to this 48-year-old bachelor it is his private palace. A far cry from the two years he spent wandering the streets wondering day-to-day where he would sleep at night.
McNear is one of three Coalition for Compassion and Justice homeless shelter clients who are now residing in the agency's first cottage-model homes on a single-family home property within walking distance to the shelter. The other two tenants are Alan Hefley, 59, and Mike Clubine, 64, who is legally blind and in a wheelchair. His cottage includes a wheelchair ramp.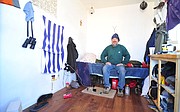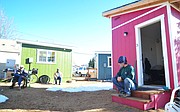 A once homeless couple, Major Beesley, and his wife, Julia, live in the main cottage, a small house in the front of the property. As CCJ staff members, the couple work at the shelter and help maintain the property that includes the three new, smaller sleep cottages – the other two are blue and green – spaced around a picnic table area in the backyard. A bathroom with a shower and individual ice boxes are located in the rear of the house for the men's use. The clients have access to an outdoor grill, but most opt to eat their main meal at the shelter. Clubine is eligible for Meals on Wheels.
"I was ecstatic," McNear said of his selection to move into the $250-a-month rental that has limited amenities but is safe, quiet and offers independence with neighbors who understand his struggles.
These new cottages were built on-site through CCJ's expanding Second Chance Housing program on property donated to the agency by its loyal benefactor Howard Mechanic, who partnered with CCJ for both its thrift store property on Fair Street and its new shelter headquarters on Madison Avenue.
The cottages were occupancy-ready in December, with a by-invitation only unveiling next week to thank all those who assisted in making this new housing project a reality. CCJ hopes to expand this housing model in the future.
In the summer, CCJ will be able to house at least eight to 12 more people in what will be two, lodge-model homes through a partnership with Dorn Homes and several other building contractors. The family-style model will offer private rooms, porches and entrances and communal spaces. Those models will rent for $450.
CCJ is launching a capital campaign to help raise the $250,000 to cover the land and construction costs.
Like a number of CCJ's homeless clientele, McNear has struggled with addiction. Through this agency, he said, he has been offered a second chance to find employment, housing, and sobriety.
"CCJ has provided me with a great opportunity, and blessed me along the way," McNear said.
His cottage neighbors all declare the agency has offered them more than they ever expected.
"Without these people, I'd either be dead, or in jail," Clubine declared.
Beesley said he considers the arrangement a godsend.
"We're a little community," said Beesley who spent about eight months in the shelter after he was released from jail on probation and had no place else to go. Through CCJ, Beesley was able to get connected to an addiction treatment support group that enabled him to become sober. "I can't tell you how blessed we are to have each other."
For CCJ Executive Director Jessi Hans, this project is expanding their efforts to find lasting homes for their homeless clients. With the collaboration of business partners and other non-profit agencies and homeless advocates, Hans' envisions a time in the not-too-distant future when shelter will be limited to a few beds for a few nights because there is ample housing options for those with nowhere else to go.
A local collaborative of some 50 or more homeless advocates and agencies founded by U.S. VETS Prescott have spent the last couple years working together to develop a variety of housing options for homeless veterans and other men and women that take into account their limited incomes, background histories that may include arrests, addiction and mental health issues, and personalities.
U.S. VETS expects late this summer to open a new, $8 million complex that will provide 150 units of housing, a combination of its current transitional housing and new studio units, including 15 transition – place apartments for those who require case management to live independently.
The aim of all of these efforts is to enable once-homeless men and women to become successful, long-term tenants, be they living in a studio apartment, transitional living or scattered site permanent housing with case management services.
CCJ Executive Director Jessi Hans jokes that this cast of characters are a local version of the Walter Matthau and Jack Lemmon movie, "Grumpy Old Men."
"All of them have very distinct personalities, but they make a family of it," Hans said.
Beesley said his only complaint is that Hefley, who he fondly refers to as "Papa," regularly beats him at cribbage.
"I see this as God's work. This is God's way," Beesley concluded.
Follow Nanci Hutson on Twitter @HutsonNanci. Reach her at 928-445-3333 ext. 2041.
More like this story
SUBMIT FEEDBACK
Click Below to: