Companies fight plastic use despite state's reluctance to do so
Originally Published: March 2, 2019 4:51 p.m.
Businesses are taking steps to reduce their plastic usage while the state of Arizona takes a hard stance against enforcing the issue.

The Town of Bisbee banned plastic bags in 2012. Later, Arizona Attorney General Mark Brnovich declared the city's bag ban unlawful. Out of fear of losing state revenue, according to Courier archives, Bisbee's council passed an ordinance that made plastic bags optional for stores. State lawmakers took measures to prevent another Bisbee situation from happening again by passing a law prohibiting cities and other localities from regulating the use of plastic bags, Styrofoam and other to-go containers in 2016.
Bisbee Council Member Douglas Dunn previously told The Daily Courier, "This is something that has been highly successful in terms of reducing litter. I just can't believe that our Legislature (has) so much concern about overreach of the federal government, they have no concern about overreach into local government."
Despite this, companies within Arizona are still working to make inroads with plastic issues.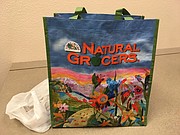 Sprouts, which has locations in Prescott and Prescott Valley, recently introduced reusable glass containers and cotton bags into its stores.
"If shoppers come and purchase those glass containers or cotton bags they can scoop items from the bulk bin and use those containers over and over and reduce that waste," said Diego Romero, spokesperson for Sprouts.
These new items are a part of Sprouts' sustainability goals, Romero said. Sprouts has a plastic recycling program where the company hauls soft plastics to its distribution center, and those plastics are recycled through a partnership with Trex, a company that makes items out of recycled materials. The grocery chain also has a bag credit program. Bag credits at Sprouts, Romero explained, are for each reusable bag a customer brings into the store they can get a 5-cent credit on their bill.
"We are mindful of plastics use and waste in our stores," Romero said. "The bag credit is an example of how we are reducing soft plastics."
While some other stores also offer the 5-cent credits — ask your favorite store's management for details — Walmart announced at the company's annual Supplier Growth Forum, on Tuesday, it will have a new set of plastic and waste reduction commitments.
The big box retailer plans to achieve 100 percent recyclable, reusable or industrially compostable packaging for its private-brand packaging by 2025; eliminating the non-recyclable packaging material PVC in general merchandise packaging by 2020, and reducing private-brand plastic packaging when possible, optimizing the use to meet the need.
"As a global retailer that has set an ambitious, aspirational goal to create zero waste, we fully recognize that reducing plastic waste by increasing packaging circularity is an area where Walmart can lead," said Laura Phillips, senior vice president for Global Sustainability at Walmart Inc.
More like this story
SUBMIT FEEDBACK
Click Below to: