Dunkin'/Baskin-Robbins makes much-anticipated debut in PV
By
Doug Cook
|
dougout_dc
Originally Published: June 29, 2019 7:15 p.m.
The wait for the sweet stuff, at long last, is over.
Freshly-baked doughnuts, flavored coffees and premium ice cream … all in one location, and in Prescott Valley?! Are you kidding?
On Saturday, June 29, Dunkin' and Baskin-Robbins played host to the grand opening of their first franchise in the Quad Cities, located on the southeast corner of Glassford Hill Road and Centre Court in the Prescott Valley Entertainment District.
The buzz has been palpable in a community that had had only one true doughnut shop for decades.
Saturday's opening featured, among other things, a spin-the-wheel game with prizes, giveaways, corn-hole games, a guess-the-beans-in-a-jar contest and an appearance by Dunkin's mascot, Cuppy.
Hours at the store will run from 4:30 a.m. to 9 p.m. Monday through Thursday, 4:30 a.m. to 10 p.m. Friday, 5 a.m. to 10 p.m. Saturday, and 5 a.m. to 9 p.m. Sunday.
As part of a promotion on June 29 and 30, Dunkin' donated 50 cents of every coffee drink sold to the Make-A-Wish Foundation.
"My wife, sister-in-law and my nieces are all Wish Granters for Make-A-Wish," said Paul Faust, vice president of the Dunkin' franchise group ABDD (A Baskin'/Dunkin' Franchisee), which owns the Prescott Valley location. "There are a number of Wish Kids in the local area."
SOFT OPENING
During the soft opening on June 25, employees who had been cross-trained by Dunkin' and Baskin-Robbins were busily shuffling around tending to customers.
Customers Nick Ocean, 19, who graduated from Bradshaw Mountain High in Prescott Valley, and his friend, 15-year-old Kenny Story, an incoming sophomore at Bradshaw, were all smiles.
After exiting the line with his goodies, Ocean chomped down on several glazed chocolate cake doughnut holes, called Munchkins, from a white paper bag. He could hardly contain himself.
"I've been waiting for this place to open," Ocean said, grinning. "I had to come and see it. I'm just tryin' stuff."
Story, holding an iced vanilla Frappuccino in his right hand and a bag of two frosted chocolate doughnuts in his left, said he had eaten at Dunkin' "several times" while living in Phoenix.
"I went to Dunkin' Donuts every day in Phoenix," Story said, as Ocean ribbed him.
Faust said that "clearly now, word's getting out" about the Prescott Valley location.
"People are contacting each other, and we had a couple guests who are sending pictures through social media saying, 'They're open,' " he added.
WORTH THE WAIT
The opening for the PV Dunkin'/Baskin-Robbins restaurant was delayed three times. Faust pinpointed the site three years ago, but he said he kept tinkering with ideas about what to incorporate into the building's design.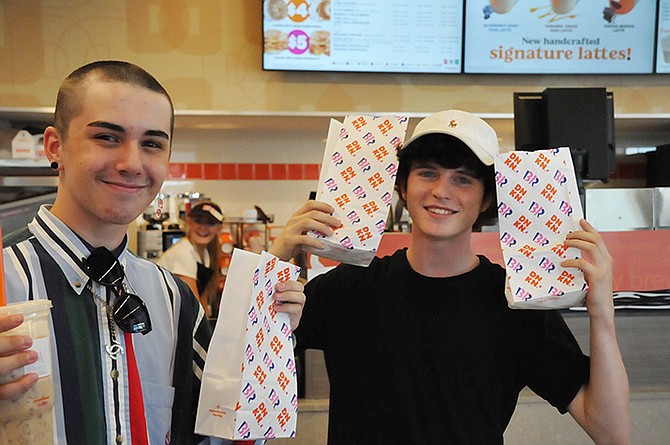 For the week and a half leading up to the soft opening here, customers were walking up to the store asking about doughnuts. Dunkin' sells more than 20 varieties. Historically, Dunkin's most popular are glazed, chocolate frosted with sprinkles and Boston crème.
Faust is proud of his 27 employees here, who've been quick learners. The store buys its doughnuts from a commissary and heats and finishes them in Prescott Valley.
"I'm really happy with the way it turned out. It is the 16th restaurant we've opened [with our franchisee group] and no one has been more welcoming than Prescott Valley," Faust said, adding that a 17th Dunkin' location, in Cottonwood, should open in October. "It's been unprecedentedly nice."
MOD PIZZA
Next door to Dunkin'/Baskin-Robbins, to the south, stands MOD Pizza. The Seattle-based chain, established in 2008, has more than 400 locations in the U.S. and the United Kingdom. The so-called "fast casual pizza restaurant," which serves individual artisan-style pizzas and salads, is slated to open during the first week of September.
A common area with picnic tables separates the Dunkin' from MOD Pizza. Customers can walk freely between a broad opening in the glass on the south side of the Dunkin' building over to MOD, which will feature a fireplace and its own seating.
HISTORY
Bill Rosenberg opened the first Dunkin' Donuts restaurant in 1950 in Quincy, Massachusetts. In 1955, Dunkin' established its first franchise. Today, Dunkin' operates more than 12,400 restaurants in 46 countries, offering doughnuts, hot and iced coffee drinks, bagels and breakfast sandwiches, among other baked treats, to more than three million customers a day.
Brothers-in-law Burt Baskin and Irv Robbins founded Baskin-Robbins in 1945 in Glendale, California, but Dunkin' Brands now owns the company, which has become the world's largest chain of ice cream specialty shops. Also known as "31 Flavors," Baskin-Robbins' "31" symbol represents 31 different ice cream flavors for each day of the month. Currently, Baskin-Robbins circulates more than 1,300 flavors to its stores. It also makes ice cream cakes.
Doug Cook is a reporter for The Daily Courier. Follow him on Twitter at @dougout_dc. Email him at dcook@prescottaz.com or call 928-445-3333, ext. 2039.
More like this story
SUBMIT FEEDBACK
Click Below to: