6-year-old gets look at what goes on at a recycling center
Patriot Disposal committed to keeping trash from landfill
"The biggest trash fan you'll ever see," is how Dylen Baynes described 6-year-old James Tartaglia before the tour of Patriot Disposal's materials recovery facility left the parking lot Friday, June 21.
James knows the name of the man who picks up his garbage every week. He maps out the truck's route through his neighborhood. His questions prove his depth of knowledge and desire to learn about all things related to trash and recycling.
James and Baynes, a family friend, joined another family, Kristina Bjerknes and her children, Adela, 11, and Luke, 8, at the Patriot Disposal facility located on the east side of Prescott Valley to study how the recycling process works.
Patriot President and CEO Jay Eby led the tour, giving an overview of why he continues to expand and update the company's equipment and services.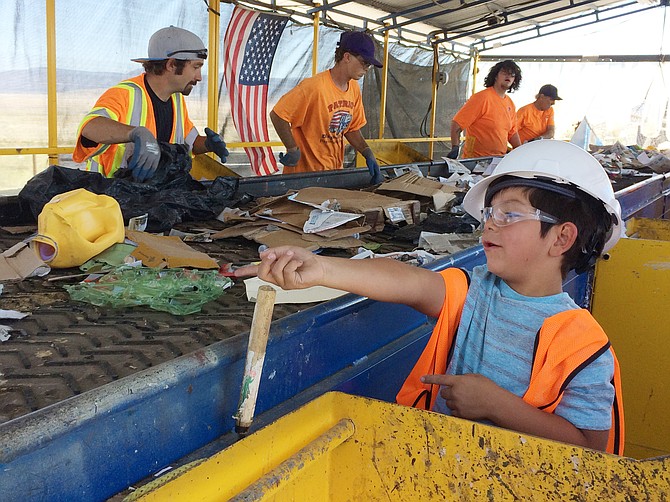 "Anything I can pull out to keep out of the landfill, I do," Eby said, giving an example of the five tons of Christmas tree lights he recycled in 2018. He gives a lot of his material away to other recyclers like the person who removes copper from those lights and extension cords that come through the recycling center.
After the sorting process, garbage trucks deliver non-recyclable materials to a Phoenix landfill, which costs Eby $40 per ton. His recyclables cost him zero dollars, and sometimes, he may even get paid for them. But his first goal is his obvious care for, and attention to, the environment.
Recycling has become more difficult as companies no longer accept what was recyclable two years ago. Eby used to sell or give away #1 through #7 plastics; today, nobody takes #3 through #7, only #1 and #2.
"Two years ago, I could take (used) cardboard pizza boxes. Now, there's no market," he said.
Despite the industry's constrictions, Eby remains committed to doing more than his part for the environment. Two years ago, with help from UniSource Energy Service, he replaced his nine diesel trucks with trucks that run on compressed natural gas. Not only do the trucks run clean, they are practically silent. No more waking up to the sound of the garbage truck from three blocks away, he said.
As the tour walked into the fenced lot where a large pile of freshly dumped trash awaited the excavator's shovel to drop it into the "breaker," James was dancing with excitement and asking how things worked.
He climbed the ladder to watch workers at the sorting belt, grabbing paper, plastic and aluminum products. He looked down a bottomless bin where the aluminum cans end up in a roll-off container, all the while commenting on what was going on around him.
Eby said community members are welcome to sign up for tours. He enjoys showing around students from local schools, as well as groups like Boy and Girl Scouts troops, Lion's Club members, and town councils.
One year, Clarkdale residents showed up to take video of the facility "to prove I wasn't doing what I said I was," Eby said. He ended up using the video in his marketing, and Clarkdale has become one of his biggest supporters.
"You have to commit to recycle. People have to decide to invest in recycling, to buy recycled materials," he said. "It's a life choice."
Patriot Disposal currently serves Prescott Valley, Prescott, Chino Valley, Dewey-Humboldt, Sedona, Cottonwood, Clarkdale, and Camp Verde. To learn more or set up a tour, call Patriot Recycling at 928-775-9000.
Follow Sue Tone on Twitter @ToneNotes. Reach her at stone@prescottaz.com or 928-445-3333, ext. 2043.
More like this story
SUBMIT FEEDBACK
Click Below to: