Arizona Downs cutting season short after this weekend
Final live racing days for 2019 are Saturday and Sunday; officials blame fight over off-track betting signals
Originally Published: June 21, 2019 12:30 p.m.
Reader poll
Horse racing is a dying industry; I am not surprised.

24%

I am upset that all parties involved cannot get this to work.

53%

I do not mind / I do not care.

23%
834 total votes.
When racing ends on Sunday, June 23, the Arizona Downs horseracing complex will cancel the remainder of its inaugural 2019 season.
Track officials are blaming the closure on an off-track betting (OTB) dispute between the track and signal provider Monarch Content Management of Canada and Turf Paradise racetrack in Phoenix.
In a Friday, June 21, news release, Downs officials said there are "ongoing issues in the battle for fair and equal access to out-of-state racing signals" for its OTB system.
They added that they told their employees and horsemen the news before notifying the public.
"Pending additional financing, the final live race days for the 2019 summer meet are June 22 and 23," the news release adds.
On Thursday, rumors began swirling in the community and on social media that the track could close for good after it runs this weekend's races.
Arizona Downs Special Products Manager Zach Taylor said Thursday the track would have eight races on the card Saturday and 10 races on Sunday. Races had been scheduled for 22 more dates this season, including June 29 and 30; July 4-7, 13, 14, 20, 21, 27 and 28; Aug. 3, 4, 10, 11, 17, 18, 24, 25 and 31; and Sept. 1 and 2.
Work to refurbish the track and its complex started in early January after it had been closed for the previous nine years due to a bankruptcy of the former Yavapai Downs, 10501 E. Highway 89A, in Prescott Valley. The Yavapai Downs facility was built in 2001 for live racing following the shuttering of the old Prescott Downs at the site of the Prescott Rodeo Grounds, 840 Rodeo Drive.
The grand opening for the overhauled track was on May 24.
Arizona Downs owner and partner Tom Auther said in Friday's release that OTBs are "the lifeblood of horse racing in our state because they fund the purse distribution to the horse owners, trainers, grooms and jockeys that compete at Arizona racetracks."
The news release cites Arizona House Bill 2547 as a sticking point. The new law mandates that any simulcast signal of live racing brought into Arizona from another state "must be offered to each commercial live-racing permittee in this state."
"Our OTBs need access to the same robust network of signals that Turf Paradise [in Phoenix] offers at its OTBs through Monarch Content Management," Auther added. "That's why we pushed for legislation [in the state Legislature] that would give us fair and equal access."
However, Arizona Downs' OTBs remain open for business, Auther said.
Auther said that "the uncertainty surrounding Monarch's out-of-state signals and Turf Paradise's threatened assault on the new law even after its passage" forced Arizona Downs' lender not to move forward with financing the Prescott Valley racetrack.
"However," Auther added, "we remain confident about the potential of year-round horse racing because this new law has passed. We already have several ongoing conversations with potential investors and OTB partners."
Turf Paradise and Monarch disagree.
"To tell a business that they have to do business with someone, and that if they do, they have to have a certain price, that is the type of government interference which is overextending their authority to do something like that," Turf Paradise General Manager Vince Francia said.
State Rep. Steve Pierce (R-Prescott) said "multiple lawyers looked at it [bill]" to ensure its constitutionality.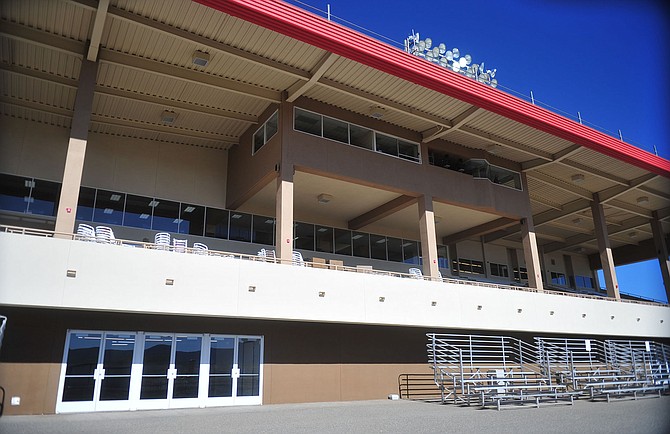 "It's a dirty shame for Arizona Downs — those guys have put a lot of money into it," Pierce added. "It's bad for the area, and it looks bad for everybody. We spent a lot of political capital getting that thing through and then getting it signed by the governor, and the governor stuck his neck out."
Pierce added that the dispute between Arizona Downs and Monarch "should be simple" to solve. He added that Turf Paradise, which races from mid-October through early May, and Monarch have a long relationship.
Turf Paradise buys signal content from Monarch at California's Santa Anita and Del Mar racetracks, among others. In turn, Monarch buys signal content from Turf Paradise.
Turf Paradise and Monarch spokesmen said they haven't decided whether to sue the State of Arizona in federal court to challenge the new law, which goes into effect on Aug. 27. Francia said 42 percent of Turf Paradise's business, or about $3.7 million, comes from Arizona horseplayers betting on races at Monarch tracks. In turn, he said, this would hurt horsemen's purses. Turf Paradise shares its revenue with the horsemen.
"We're taking a look at what our legal options are, but we have filed no suit in federal court or state court in regards to the law that was passed," said Francia, adding that a 42 percent hit "would be devastating."
Monarch sends OTB signals from the racetracks under its umbrella to racetracks across America, including to the Arizona Downs complex. However, Monarch doesn't send those signals to Arizona Downs' OTB facilities, which the latter has been trying to cultivate.
The trouble for Turf Paradise is that Monarch has said publicly it will conduct business with "all or none" of the tracks in Arizona, Francia said. Turf Paradise also stands to lose transmission of its races through the OTB signal that travels to Monarch racetracks for betting. Rillito Park Racetrack in Tucson is this state's other track.
"The dispute started between Monarch and Arizona Downs, and that's where it needs to be resolved," Francia added. "They need to work that out, and quit dragging Turf Paradise into a dispute that is not ours."
Arizona Downs' news release says that "Monarch will make a decision to either pull its signal from Arizona altogether, or do as the law mandates and sell the signal to all state-permitted racetracks and OTBs.
"Either way, HB 2547 guarantees that all permitted racetracks and OTBs will have equal access to all out-of-state racing signals."
ARIZONA DOWNS SUCCESSFUL?
Since Arizona Downs' grand opening May 24, the news release states the complex "has attracted more than 10,000 fans to its weekend live-racing events, including thousands of individuals that have never experienced horse racing before."
But is the racetrack here generating enough money in each of its live races from on-site and OTB betting to impact the market?
"Arizona Downs is essential for the success of horse racing in Arizona," Leroy Gessmann of the Arizona Horsemen's Benevolent and Protective Association (HBPA), and national president of HBPA, said in the news release. "Because of their efforts, legislation is in place that will strengthen the industry and pave the way for a strong year-round racing circuit."
Monarch Content Management President Scott Daruty said Arizona Downs' operators "tell the world that the problems they're experiencing with their racetrack are due to the fact that we have not sold them our signals to use in OTBs throughout Arizona, as they have asked."
Monarch sells its signal to Arizona Downs so that betters on-site can bet on the former's races. It is unclear whether Arizona Downs is pursuing OTB venues in the Quad Cities or solely in the Phoenix area.
"We have significant doubts about the constitutionality of the new law that passed," Daruty added. "We believe it takes away our rights as the producer of the product, and it also takes away rights we're given under federal law, specifically under the Interstate Horseracing Act of 1978.
"Our view of the new law is it was passed for the sole purpose of trying to force us to sell our content to Arizona Downs for its use all across the state of Arizona in a network of OTBs that it hasn't even opened yet. And the few OTBs that they have opened so far are all within a very short distance, oftentimes within a mile or less, away from an existing OTB."
Pierce said that if horseracing leaves Arizona Downs after June 23, "I don't think the horsemen will ever go back." When the Yavapai Downs closed nine years ago, it was a complete surprise to horsemen and trainers.
"That track is dead, because they won't trust anybody that's gonna open it," he added.
SUPPORT
Arizona Downs officials say horsemen and the local community "have been incredibly supportive of Arizona Downs and its efforts to strengthen Arizona's horse-racing industry." The release says hundreds of supporters of Arizona House Bill 2547 have already contacted Gov. Doug Ducey.
"Although it's disappointing that the summer live-racing season has been cut short, the Town of Prescott Valley is optimistic and excited for summer racing to continue due to the huge benefit to the community and our citizens," Prescott Valley Mayor Kell Palguta said in the release.
"Much like life, plans don't always work exactly as expected. But there has been incredible progress with the new legislation, and we are glad that Arizona Downs is moving forward and finding new investors. I hope a huge crowd shows up this weekend to show their continuing support."
Tom Auther added, "We are heartbroken at the prospect of suspending our 2019 summer racing, and for our employees, and all the horsemen, trainers, jockeys and their families who stayed in Arizona to compete in our meet," Auther said in the release. "However, the successful passage of HB 2547 puts us on sound footing for a full summer meet in 2020."
SUBMIT FEEDBACK
Click Below to:
More like this story