Sedona Film Fest presents 'The White Crow' premiere June 21-27
Originally Published: June 20, 2019 10:07 p.m.
The Sedona International Film Festival will present the Northern Arizona premiere of the acclaimed new film "The White Crow" June 21-27 the Mary D. Fisher Theatre.
Award-winning actor Ralph Fiennes directs and stars in "The White Crow" the story of world-renowned dancer Rudolf Nureyev (played by Oleg Ivenko).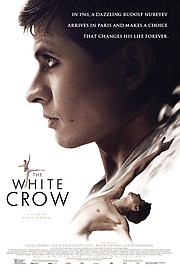 A dazzling Rudolf Nureyev arrives in Paris and makes a choice that changes his life forever.
A young man of just 23, dressed in a black beret and a dark narrow suit, is on an airplane flying from St Petersburg to Paris. It is 1961 and Rudolf Nureyev, not yet the imperious figure of legend, is a member of the world-renowned Kirov Ballet Company, travelling for the first time outside the Soviet Union.
Parisian life delights Nureyev and the young dancer is eager to consume all the culture, art and music the dazzling city has to offer. But the KGB officers who watch his every move become increasingly suspicious of his behavior and his friendship with the young Parisienne Clara Saint. When they finally confront Nureyev with a shocking demand, he is forced to make a heart-breaking decision, one that may change the course of his life forever and put his family and friends in terrible danger.
From Nureyev's poverty-stricken childhood in the Soviet city of Ufa, to his blossoming as a student dancer in Leningrad, to his arrival at the epicenter of western culture in Paris in the early 1960s and a nail-biting stand-off at the Le Bourget airport, "The White Crow" is the true story of an incredible journey by a unique artist who transformed the world of ballet forever.
"An exhilarating gift! Part thriller, part meditation on life and art, part portrait of a man on a tightrope." — Peter Travers, Rolling Stone
"Lovely, elegant, impressive. A classy — and respectfully sexy — night at the movies." — Peter Debruge, Variety
"Riveting. The dance sequences are magnificent." — Lindsey Bahr, AP News
"Bravo, Ralph Fiennes! Brilliant. Beautifully crafted." — Nichol Hlinka, AARP
"The White Crow" will be shown at the Mary D. Fisher Theatre June 21-27. Showtimes will be 4 and 7 p.m. on Friday and Tuesday, June 21 and 25; 4 p.m. on Saturday, Monday and Thursday, June 22, 24 and 27; and 7 p.m. on Sunday, June 23.
Tickets are $12, or $9 for Film Festival members. For tickets and more information, please call 928-282-1177. Both the theatre and film festival office are located at 2030 W. Highway 89A, in West Sedona. For more information, visit: www.SedonaFilmFestival.org.
More like this story
SUBMIT FEEDBACK
Click Below to: