Geologist presents concerns about Superfund investigation, remediation
Dewey-Humboldt residents hear new facts from Brian Beck

Originally Published: June 18, 2019 8:03 p.m.
Several pieces of information offered to Dewey-Humboldt residents at a community meeting raised concerns as geologist Brian Beck presented his research to about 35 people gathered at Mortimer Family Farms on June 11.
The meeting, organized by Ashley Preston, covered the history of the Iron King Mine and the Humboldt Smelter, located on opposite sides of Highway 69, as well as current research findings by the federal Environmental Protection Agency (EPA). The EPA listed both properties under one Superfund site in 2008 because of contamination from mining and smeltering operations that began in the 1870s and 1880s and ran intermittently into the 1970s.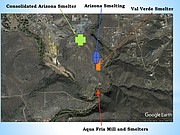 Preston said her daughter started having breathing issues on windy days, and when tested, was found to have high levels of metals. Preston is seeking community support to form a nonprofit organization that, among other things, would collect data on cancers and lung issues among D-H residents.
Beck, a former EPA emergency response manager — mostly investigating train wrecks in Louisiana and Arkansas, he said — looked at the historical background of the sites. One thing he said EPA didn't look for was contamination left over from a coal-powered power plant.
"Three smelters used coal," Beck said, adding that EPA didn't look for evidence of the power plant or coal tar. "We don't know where that was dumped. That material is far more dangerous than arsenic or lead, and is tied directly to cancers."
Another concern involves the removal of soil containing above health-based standards of arsenic and lead from residents' yards. Soil mitigation began in 2006 at four properties under EPA oversight and extended to others in later years. Currently, EPA has sampled or screened 490 residential yards for arsenic and lead with about 6,300 soil samples collected. The human health risk assessment concluded that more than 92% of residential yards did not have levels of arsenic or lead that would pose an unacceptable health risk.
Also, as part of the investigation, EPA collected 254 sediment, 167 surface water, 339 groundwater and 278 air samples.
Arsenic occurs naturally in places that have high mineral content. EPA looked at background levels of naturally occurring arsenic and lead, and also what may have been deposited through windblown dust, emissions from the smelter stack, material spills along rail routes, use of waste materials as fill, and redistribution of contamination through development (grading and importing of fill material).
EPA's Remedial Investigation report indicates the largest concentrations of arsenic and lead in soil samples were in areas surrounding the smelter property, and areas in and adjacent to the upper or middle Chaparral Gulch. Test results at the Humboldt Elementary School identified no unacceptable risks in either soil or ambient air.
One of Beck's concerns is that EPA averaged the arsenic and lead concentration levels in soil samples in each residential yard. Some parts of a yard may have high levels and others low levels, he said. In addition, remediated properties, those that had contaminated soil removed and clean fill provided, are still at risk of soil disturbance and recontamination should future work be needed that would involve digging past the clean soil — utilities or septic installations, for instance.
He questions, too, the use of smelter and mine tailings material that were used for foundations, roadways and imported landscaping material. "What happened to all that brick from the smelters?" he said.
Beck said he offered his findings to EPA officials, and was told they couldn't use any of the information.
On Wednesday, June 12, Yolanda Sanchez, EPA community involvement person, appeared telephonically at a Dewey-Humboldt Community Environmental Board meeting in the Dewey-Humboldt Town Library. When informed of Beck's offer and EPA's answer, Sanchez said if there is new evidence of contamination on the site such as the coal-fired power plant, EPA wants to have that conversation. She requested more information prior to the next meeting or phone call in order to find some answers to questions from Beck and Preston.
Also present at the meeting was Cecil Newell, Yavapai County Community Health Services. He asked if anyone was looking into statistics on cancer rates or related health issues. He said the state epidemiologist would have more experience putting together health studies on the long-term impact of contamination; he suggested starting with the county epidemiologist, however.
Sanchez said one of the limitations of such studies is Dewey-Humboldt's small population. She does think further conversation would be valuable.
Other issues discussed during the June 12 meeting included the need for fencing around the site, continued dust control measures on the Iron King Mine tailings pile, and disclosure requirements for property owners and real estate companies about remediation and contamination test results.
More like this story
SUBMIT FEEDBACK
Click Below to: