Need2Know: Holiday Courtyard opens ballroom; Bob's Barbershop celebrates 1st year, location; Flags Galore & More gets new owners; Hilton Garden Inn breaks ground

By
Cindy Barks
|
Cindy_Barks
Originally Published: June 15, 2019 8:22 p.m.
Holiday Courtyard opens newly renovated ballroom
With the opening this past week of the newly renovated Holiday Ballroom, Whiskey Row's popular Holiday Courtyard now offers an indoor/outdoor venue.
Ray Rivera, general manager of the Holiday Courtyard and adjoining Grand Highland Hotel at 154 S. Montezuma St., said the new ballroom space had its inaugural event Wednesday, June 12.
The space, which previously served as Ortega's Traders Shop, has been under renovation for the past several months.
The addition "was designed to have an indoor/outdoor wedding or event," Rivera said. New doors were added to allow for easy access between the two spaces.
Rivera noted that the space is booked as three separate rooms, or altogether. "The ballroom is one space, the (Holiday) Hub is another, and the courtyard is another space. You can book them individually or together," he said.
A by-invitation opening event is scheduled for later this month, and a public ribbon-cutting will take place later in the summer, Rivera said.
'Everybody's Hometown Barbershop' celebrates first year at new site
With 40 years of experience cutting hair in Prescott, Lily Gannon of Bob's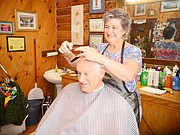 Barbershop is celebrating her first year of business at a new location.
Gannon worked for years at Bob's Barbershop — a veritable Prescott institution located at Hillside and Division — before buying the business from longtime owner Bob Reichmuth, who retired soon afterward.
Gannon moved the business to 340 W. Willis St. a year ago. She says the barbershop has continued its tradition as a "real good old-fashioned barbershop," where customers can get haircuts and straight-razor shaves.
"We're known as 'everybody's hometown barbershop,' " Gannon said.
Flags Galore & More gets new owners, doubles its space
With July 4 just around the corner, Highway 69-area business Flags Galore & More is ready with an enhanced inventory of U.S. flags, along with flag-in-spired windsocks, wind spinners, and metal art.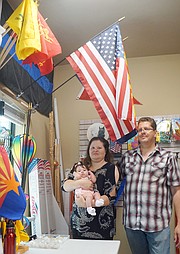 New owners Robert and Melissa Newman came on board in February, and have since expanded into an adjacent space, more than doubling the size of the store, which is located at the corner of Highway 69 and Diamond Drive in Diamond Valley.
The couple have also added to the merchandise. "We have a lot more military art and military apparel," Melissa Newman said.
The store also offers an assortment of Arizona and university-inspired flags, along with kites and windsocks.
U.S. flag sizes range from the small 4-to-6-inch variety all the way up to 30-foot-by-60-foot flags.
The Newmans also offer flag poles, as well as flag and pole repairs.
The business is located at 1701 N. Emerald Drive, Suite A.
Hilton Garden Inn project breaks ground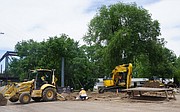 Work got started this week on the site of the new Hilton Garden Inn hotel near the corner of Sheldon and Montezuma streets in downtown Prescott.
Developer Steven Shumway said in a June 8 email that the project had acquired the needed permits to get started, and developers conducted an informal groundbreaking on Tuesday, June 11.
Late this past week, heavy equipment was on site along Granite Street near the old railroad trestle. City officials say the current construction involves needed underground utilities work.
To send a tip for Need2Know, email editors@prescottaz.com; for legal advertising, email ssialega@prescottaz.com.
More like this story
SUBMIT FEEDBACK
Click Below to: