2 characters from the past will come to life at Phippen Museum
Phippen Museum offers talks on Summerhayes, Juan Moreno

Originally Published: June 12, 2019 6:14 p.m.
Updated as of Wednesday, June 12, 2019 10:29 PM
Experience two historic characters as they come to life at the Phippen Museum on Saturday, June 15, and Thursday, June 20, as part of the museum's heritage programs.
At 1 p.m. Saturday, historian and lecturer Wayne Ranney presents "In the Footsteps of Martha Summerhayes." Summerhayes was a refined New England woman who came to the Arizona Territory in 1874 as the young bride of an Army lieutenant.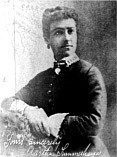 Traveling in horrific conditions and dreadful heat, she despised the wild, untamed land. She gave birth to the first Anglo child born at Fort Apache, where the native women cared for her. Gradually, her attitude toward the desert changed, and she soon came to love the starry nights, clear air, and stark simplicity of its inhabitants. She wrote about her experiences in "Vanished Arizona", still in print since it was first published in 1908.
Ranney, award-winning author, backcountry ranger and river guide, takes guests on a journey through Summerhayes' footsteps.
He also has a personal connection to her family, which he will share during the program.
This presentation is offered free for museum members and included in the price of general admission for guests.
The life and amazing times of Juan Moreno, a current resident at the Pioneer Cemetery in Prescott, comes to life through living Prescott resident Mick Shepard.
At the Phippen's Third Thursday Dinner Program, 5:30 p.m. Thursday, June 20, Shepard, a local historian and performer, takes on the character of his fascinating ancestor.
Like many in his situation, Moreno was born in a small, southern village in Mexico. Despite life's obstacles and its strange way of rearranging things, Moreno learned to read and write. If Mexico ever had a Forrest Gump story, it would have to be Juan Moreno.
Shepard is a talented, local performer who has created and performed in a variety of historic programs. As Juan Moreno, he will regale guests with an evening of song and storytelling.
This event is $25 for museum members and $30 for guests. The event features a catered menu by Big Daddy E and his Smokin' Barbeque, a cash bar, and a chance to win a special drawing.
Call 928-778-1385 to make a reservation. The Phippen Museum is located at 4701 Highway 89 at the roundabout. For more information, call 928-778-1385, or visit www.phippenartmuseum.org.
SUBMIT FEEDBACK
Click Below to: