Town of Chino Valley helps feed homeless students

Originally Published: June 11, 2019 9:28 p.m.
In April, Addie Daniels approached the Chino Valley Town Council about the Green Bags Project, asking them to collect food items in green bags for school district students and a homeless food pantry run by her family and other volunteers at the school.
Last week, Daniels picked up 49 bags of food from Town Hall along with two boxes of cookies and a case of water.
"I was not quite expecting that many," Daniels said as she picked the food up Thursday, June 6. She thought they'd fill up about 30 bags, she said.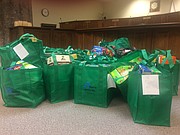 Daniels said she's been collecting food as part of the Green Bags Project since last August. They have a network of people they collect form including the Lions Club, Rotary Club, Drake Cement and Grace Baptist Church, she said. They collect the food, give them back empty bags and return a month and a half later after more bags have been filled, Daniels said.
Kathy Frohock, administrative technician for the Town of Chino Valley, said the departments had a goal of filling up one bag per four people. The court with its six employees did the best with 4 and a half bags, Frohock said.
"They ended up at 450% of their goal," she said.
Having recently graduated from Chino Valley High School, Daniels said her brother, Alex Daniels, will take over in the majority of collecting when she's gone and is also looking to train someone for the rest of it. He attends Yavapai College and they partner with small groups from the college, she said.
Cindy Daniels, their mother and assistant superintendent for the Chino Valley Unified School District, said for anyone not involved with the groups they collect from can drop by her office at the district office where she always has bags for them to fill.
"We have people stop by almost every day, even with small things," Cindy Daniels said. "I add them to the bags in my office too."
The Chino Valley Unified School District office is located at 650 E. Center St.
More like this story
SUBMIT FEEDBACK
Click Below to: