Occupancy at Prescott Gateway Mall rises to 80% — up from 55-60%
New ownership works on mix of 'local flavor' and national retailers

By
Cindy Barks
|
Cindy_Barks
Originally Published: June 8, 2019 7:56 p.m.
Updated as of Saturday, June 8, 2019 11:29 PM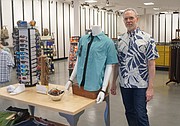 After experiencing its share of ups and downs since it opened 17 years ago, the Prescott Gateway Mall is currently in a dramatic "up" phase, local business owners say.
In a significant turnaround from just over a year ago, more than two dozen shops, eateries, and a church recently located at the mall.
General Manager Kaela Seisinger reports that the mall currently stands at 80% occupancy.
That is a substantial improvement from just over a year ago, when the Gateway Mall was barely half-occupied.
"We were at 55 to 60 percent occupancy," Seisinger said of the mall's low point.
Now, she predicts that the mall will be 100% full within a year.
RESURGENCE
The resurgence recently caught the attention of the Prescott Chamber of Commerce, which conducted a joint ribbon-cutting event at the mall this past Thursday.
"All of the new shops and eateries are independently owned," stated a news release from the Chamber. "They have either moved from a different location, such as Man at Leisure, Foot Fetish, Pralines of Prescott, Neptune's Paradise, Ultra Water Bar, Valley Hobby, or are brand new …"
Seisinger and several of the business owners credit the mall's new ownership, Kohan Retail Investment Group, with taking the approach of working with businesses to find a way to get them in the mall.
Ray Sola of Man at Leisure moved his men's boutique from Bashford Courts in downtown Prescott to the mall in April after hearing from a fellow retailer about the mall's "great deals and willingness to work with people."
Now, as one of the 25 new businesses, Sola said the influx has created a buzz at the mall. "All of the new stores are really energized and helping each other," he said.
Jason McCord and Emma Rucker at That Salad Place also heard about the mall opportunities from another tenant.
They opened their new salad, wrap, and soup spot in early June, after moving from a location on Iron Springs Road.
"One of the other (mall) tenants came in as a customer," McCord said. After hearing about the mall's willingness to work with tenants, McCord said he toured the space and noticed the upswing. "It's growing," he said.
Located in the former Subway space in the mall's food court, That Salad Place offers custom salads, wraps, and homemade dressings and soups. "We have found the mall space a lot more in tune with our concept," Rucker said.
'HOMETOWN FLAVOR'
For the most part, the recent growth at the mall has been characterized by local businesses, rather than chain stores.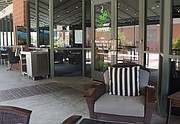 John Heiney, the City of Prescott's Community Outreach manager, said that has been a concerted effort of the mall owners.
"The mall ownership has worked hard at giving it a local appeal," Heiney said. "They definitely have worked to bring in a local flavor to the mall — to keep it feeling hometown."
At the same time, Heiney stressed that the mall continues to have a wide selection of "quality national retailers."
Along with its three anchors of Dillard's, JCPenney, and Sears, a number of national stores and eateries remain at the mall.
Despite the mall's recent growth, Seisinger said she continues to hear negative comments in the community. "People say they want to support local, but they don't realize that the mall is full of local businesses," she said.
New Mall Stores
More than two dozen vacant spaces have been filled at the Prescott Gateway Mall in just over the past year.
The new tenants include:
• Starting Point Church
• Third Shot Coffee
• Micro AZ
• Ravens Relics/Geek Out Toys
• Allini Natural Bath and Body Boutique
• Neptune's Paradise
• Florian Floral
• Lizarraga Bakery
• Foot Fetish
• Valley Hobby
• Addicted to Deals
• Lily Crafts Shop
• Enlighten Candles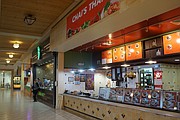 • Compassion Transportation
• Pralines of Prescott
• The Garden Event Center
• AZ Twisted Temptations
• Amy's Indoor Outdoor Exchange
• The Dugout
• Man at Leisure
• Avis Budget Group
• That Salad Place
• Mile High Tile
• Gingers Gifts
• Cozmic Potato
• Water Bar Health Store
• YRMC (storage only)
• Jenniches Storage (storage only)
More like this story
SUBMIT FEEDBACK
Click Below to: