Need2Know: TravelCrafters puts 'new twist' on old concept; 25 new businesses at Prescott Gateway Mall; and Azteca opens new larger space

By
Cindy Barks
|
Cindy_Barks
Originally Published: June 1, 2019 5:53 p.m.
TravelCrafters puts 'new twist' on old concept
With an eye toward personalized travel experiences, two local travel-agent pros recently launched a new type of agency.
TravelCrafters opened May 1 at 223 White Spar Road, Prescott, with the goal of tailoring or "crafting" trips with clients' interests and needs in mind.
"We recognize that the needs of travelers in Prescott are not always being met by the big box style agencies, and that local versions of travel agents seem to fall short when asked to work outside the box," states a news release from business owners Stan Kephart and Belinda Sunderland.
"We offer a high level of personalized service," added Kephart. "We're local; we're accountable."
Kephart and Sunderland have years of combined experience as travel agents in Prescott, having worked previously at Hometown Travel.
Sunderland, a native of Alaska, specializes in crafting Alaskan travels — whether a cruise, a cruise tour or a land-based trip.
Their phone number is 928-582-6387.
Ribbon-cutting will introduce more than 25 new businesses at Prescott Gateway Mall
From new choices in salads, potatoes and coffee, to shops offering flowers, chocolates, and clothing, the Prescott Gateway Mall has recently added a wealth of new businesses.
Over the past year, the mall has added more than two-dozen new shops and eateries — all independently owned.
A news release from the Prescott Gateway Mall announces that a ribbon-cutting event will take place in the mall's food court at 4 p.m. Thursday, June 6, hosted by the Prescott Chamber of Commerce. The public is welcome to attend.
The celebration will continue two days later — with festivities from noon to 6 p.m. Saturday, June 8.
(Watch The Daily Courier and www.dCourier.com for coverage of the new shops and eatery choices on Sunday, June 9.)
Azteca opens new larger space in Prescott Valley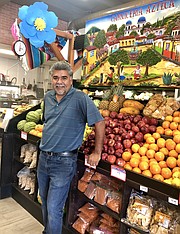 At three times the size of its original Prescott Valley location, Carniceria Azteca recently opened a new location in Prescott Valley — at 6425 E. Highway 69.
Jose Bautista, owner and manager, said the new Azteca site joins the existing spot on Spouse Drive as a family-run operation. The new market offers everything from freshly mesquite-grilled chicken and carne asada, to fresh produce, to a variety of homemade salsas.
The market also includes a restaurant area that offers an extensive taco menu. "We have 13 different meats, and a self-service salsa bar," Bautista said.
Bilingual staff will be on hand at all times, he added.
While the market is currently in the "soft-opening" phase, Bautista said plans are in the works to offer handmade corn and flour tortillas along with its other offerings.
Follow Cindy Barks on Twitter @Cindy_Barks. Reach her at 928-445-3333, ext. 2034, or cbarks@prescottaz.com.
Send tips for Need2Know to editors@prescottaz.com; for legal advertising, email ssialega@prescottaz.com.
More like this story
SUBMIT FEEDBACK
Click Below to: