Last Chance for Summer Fun Kids Club
Volunteers needed for final day

Originally Published: July 30, 2019 10:38 p.m.
After a summer of fun, Elizabeth Vicory's Summer Fun Kids Club has one session left: a grand finale with Summer Olympics at Memory Park Wednesday afternoon, July 31.
Looking back, the experience has gone by fast, Vicory said. Still, she said she feels accomplished having put it on successfully and she has enjoyed seeing the kids have fun.
"I like being around kids," Vicory said. "It's better for the kids to do stuff than just being out on the streets getting in trouble."
Put on for her Frontier Girl Eagle Level Diamond Award, the program gave kids something fun to do over the summer as the library was without a summer reading program following the retirement of Darlene Westcott. Frontier Girls Clubs is a scout-like youth program offered as an alternative to Girl Scouts with more than 1,200 individual badges. Girls in the Eagle level are in high school and take on advanced leadership roles within the troop, earn badges and awards, organize and lead community service projects and learn new skills. The Diamond award is the highest award at the Eagle level.
Though the Wednesday, July 24, character-con session didn't see that many people in attendance, Ebony Smith and her kids, Ayden and Olivia Smith, were there enjoying themselves.
They had been coming to storytime on Wednesday mornings when Westcott was the children's librarian and kept coming to the library after she left, Ebony Smith said.
"We were excited to hear they were doing a program to keep us busy and do crafts and read," she said. "We really enjoyed rock painting."
Ebony Smith said they were looking forward to the final week and Summer Olympics.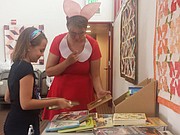 The July 24 session may have seen only a handful of people but Suzanne Vicory, Elizabeth Vicory's mother, said that the Summer Fun Kids Club averaged about 25 kids per week and one week saw 50 participating.
Elizabeth Vicory said the program was able to surpass her expectations because her mother and her grandmother, Carol Vicory, were able to help her with things she never thought about. Suzanne Vicory said it exceeded her overall expectations.
"There was a lot more support than I expected in some areas from the community, there wasn't enough support in some areas," she said, adding there were difficulties in getting volunteers to come and help run the programs. "It's pretty much been us and the parents … it would have been nice to have a few extra hands."
For the final Summer Olympics session, Suzanne Vicory said there is a need for at least 10 people to volunteer. Anyone interested can walk up and say they want to volunteer.
As far as the support that the community has given, Suzanne Vicory said there has been great support in the way of sponsors and from town officials. One week, they didn't have enough sponsors to buy the craft supplies they needed and Mayor Darryl Croft gave them the money they needed to buy those supplies, she said.
The final session of the Summer Fun Kids Club starts at 1 p.m. Memory Park is located at Palomino Road and North Road 1 West.
For more information about the Summer Fun Kids Club or to volunteer, call Suzanne Vicory at 928-899-3582.
More like this story
SUBMIT FEEDBACK
Click Below to: