7 in 7: Movie night at pool, dog days at courthouse, car show at lake

Originally Published: July 30, 2019 5:52 p.m.
Updated as of Tuesday, July 30, 2019 10:09 PM
The many dog owners in the Quad Cities will be happy to note Woof Down Lunch is coming up this weekend on the Yavapai County courthouse plaza.
If this event on the green lawns of downtown Prescott doesn't suit you, drive your pooch out to see the car show at Watson Lake. And if the lake isn't your thing, float in the outdoor pool while you take in a movie in Prescott Valley.
These are some of the "7 in 7" things to do over the next seven days. Not all events are free, but all look like fun — or at least interesting, even if you're not a fan of dogs or cars.
1) Take in a movie and stay cool at the same time with the Mountain Valley Splash Swim-in Movie Night from 6:30 to 9:30 p.m. Thursday, Aug. 1, at the pool, 8600 E. Nace Lane, Prescott Valley. Doors and concession stand open at 6:30, "The Little Mermaid" begins at dark. Adults $4.50, youth and seniors $3.50.
2) Don't forget about a free educational talk, "10 Warning Signs of Alzheimer's" that takes place at 5:30 p.m. Thursday, Aug. 1, in the third floor Crystal Room of the Prescott Valley Public Library, 7401 E. Skoog Blvd. The program will cover typical age-related changes, early detection, benefits of a diagnosis, and how to talk with someone about memory concerns.
3) Harvest Celebration to honor Mother Earth with music, the crowning of the first Harvest Queen, organic snacks and a free movie, "Symphony of the Soil," begins at 6:30 p.m. Thursday, Aug. 1, at Granite Peak Unitarian Universalists Congregation, 882 Sunset Ave., Prescott. This celebration recognizes the Celtic holiday Lughnasadh, or Lammas, a time to reap the first fruits and grain of the season.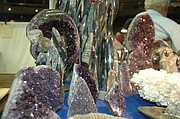 4) Prescott Gem and Mineral Show with its beads, fossils, geodes and gold panning takes place over three days, Friday through Sunday, Aug. 2-4, at Findlay Toyota Center in Prescott Valley. Admission is $5 adults, $4 seniors, veterans and students, children younger than 12 free with paid adult admission.
More than 60 vendors feature fine mineral specimens, crystals, gemstones, tools and equipment; demonstrations of wire wrapping and geode splitting; chances for prizes with admission. Check out the fluorescent rock and mineral tent to see what plain-looking rocks really look like under a black light. Free parking at the center, Glassford Hill and Florentine roads.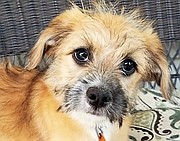 5) Bark, bark, bark. It's time for the annual Woof Down Lunch for dogs and their best friends, 10 a.m. to 3 p.m. Saturday, Aug. 3, at the Yavapai County courthouse plaza. Visiting dogs must be on leash and up to date on their vaccinations. The event is free, but if you want extras, consider contributing to the fundraiser by purchasing a ticket for $20, which includes a picnic lunch and choice of handcrafted pet bowl, or 10 tickets for a chance to win gift baskets and other goodies. The fundraiser benefits animals in need.
Yavapai County Sheriff's Office Search Dog Unit and local K9 police officers, dog obedience instructor and dog trainer will demonstrate their canines' skills. Dog contests, vendors, pets ready for adoption,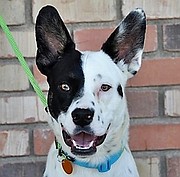 face painting for the kids, photo booth and Ask-a-Vet booth will be on hand, as well as live musical entertainment.
6) Prescott Antique Auto Club presents the 45th annual Watson Lake Car Show from 7 a.m. to 4 p.m. Saturday and Sunday, Aug. 3-4, at Watson Lake, four miles north of downtown Prescott on Highway 89. Car show time is 8 a.m. to 3 p.m. General admission is $5 cash only for both days with children 15 and younger free when accompanied by a paying adult; free parking available.
A swap meet, old engine fire-up, parts exchange, a Car Corral with for-sale cars, food vendors and drawings for prizes all are part of the event. No pre-registration necessary for show cars. Vehicles 1994 and older are $25 per car Saturday and $10 per car Sunday, with a maximum 200 vehicles. Sunday is specialty day featuring additional trophies for Volkswagens and Rat Rods.
7) "Hiroshima/Nagasaki Never Again: Stories from the Nuclear Age" offers story-telling performances in remembrance of the atomic bombing of Hiroshima and Nagasaki in Japan during World War II. This historic event ushered in the era of living with nuclear weapons and the ever-present threat of nuclear war. Hear the stories of how living with "The Bomb" affects people, and what "Downwinder" means — people who were living downwind of nuclear weapons testing experienced radioactive fallout.
BONUS: Sing! Sing! Sing! Music Fest at the Highlands Center brings out local musicians to share the music of Pete Seeger, Woody Guthrie, Bob Dylan, Peter, Paul and Mary, and more, from 1 to 5 p.m. Sunday, Aug. 4, at the Highlands Center for Natural History Amphitheater, Discovery Gardens and on the patio, 1375 S. Walker Road, Prescott.
Performers include McDougal Street West, Tom and Christa Agostino, Brad Newman, The Robertson Sisters, Shore Line, and Ron Skelton and friends. Folk Sessions Radio Show Rummage Sale has hundreds of folk and Americana releases available. Tickets are $20.
More like this story
SUBMIT FEEDBACK
Click Below to: