Chino Mud Run sign-ups available

Originally Published: July 23, 2019 9:24 p.m.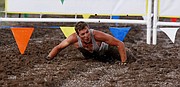 Want to do something dirty?
Sign up for the Chino Mud Run.
It's happening at Old Home Manor on Saturday, Aug. 17. Recreation Lead Dallas Gray said quite a few people have registered already.
"I think it's going to be a really good year," Gray said. "We're definitely going to exceed what we had last year number-wise."
Other than the addition of shaved ice, which will cool everybody down, there's not a lot that's new and different for this year's Mud Run, she said. If something's not broken, it doesn't need fixing and the Chino Mud Run is something that kind of speaks for itself, Gray said. The obstacles also work really well and have been well-liked.
The first wave — the competitive wave — starts everything off at 8 a.m. and that gets the ball rolling and everything into high gear, Gray said. The waves after that are based on who signs up for them, Gray said. They start at 8:45 a.m. and continue every 15 minutes until 11:30 a.m.
"We've got family waves, we have adult-only waves, we have a costume wave," she said. "It's a well-rounded event for everybody."
Open to anyone 7 and older, pre-registration is $36 for a group or team of three or more people, $37 for teams of two and $42 for individuals. The day of the event, it's $42 for teams of three or more people, $43 for teams of two and $48 for individuals. All proceeds benefit the expansion of Chino Valley Parks and Recreation programs. To register, visit www.chinomudrun.com. The course is located at 2125 N. Old Home Manor Drive.
Gray said she enjoys seeing the camaraderie of everyone coming together and getting through the course safely. Families unite to take the course on, she said.
"For families that are athletic, for families who aren't athletic, for kids who enjoy it, for kids who don't, they get out there and there's no way you're not going to have a good time," Gray said. "There's no way to not have fun."
With a combination of man-made and natural obstacles — including jump walls of different heights, tires, ramps and cargo nets along with a lot of mud — the Chino Mud Run isn't something that participants are going to experience every day or even more than once a year, Gray said. The Chino Mud Run is unique in its combination of terrain and mud and a unique atmosphere that families and people of all ages can participate in.
Anyone who joins in will get a bag full of goodies, a mud run shirt and people usually keep their number bibs to frame or put in photo galleries, Gray said. Those who place in the competition wave will get medals as well.
"It's going to be a lot of fun," Recreation Coordinator Haley Byrd said.
For more information, visit www.chinomudrun.com or call Chino Valley Parks and Recreation at 928-636-9780.
More like this story
SUBMIT FEEDBACK
Click Below to: