7 in 7: Old West shootout, space battles, Comicon, stars and flowers all part of this week's events

Originally Published: July 23, 2019 9:23 p.m.
This week's events listed in "7 in 7" run the gamut in time travel from Western gunfights to star gazing to fantasy role-playing in Prescott, Prescott Valley and Dewey-Humboldt.
The Daily Courier offers a "7 in 7" look ahead, printed each Wednesday, of seven events happening around the Quad Cities occurring over the next seven days. Here are several events for children, teens, adults, gardeners, history buffs and little ones who like to explore dirt and look at bugs.
#1 — "Jack and the Beanstalk": A puppet show for all ages takes place twice — at 10 a.m. and again at 1 p.m. — on Thursday, July 25, in the Founders Suite, Prescott Public Library, 215 E. Goodwin St. Find out what happens when Jack climbs the beanstalk in the Great Arizona Puppet Theater's presentation of "Jack and the Beanstalk." These programs, funded by the Friends of the PPL, are popular and fill up fast. Seating is on a first-come basis.
#2 — NERF Space War for teens ages 12-18 takes place at 2 p.m. Thursday, July 25, at the Prescott Valley Public Library, 7401 E. Skoog Blvd. Build a fort and work with a team to defend it using Nerf Missiles. Meet in the teen area; the epic space battle commences outside.
#3 — Prescott Astronomy Club visits Dewey-Humboldt at 8 p.m. Friday, July 26, to star gaze from the parking lot of the Dewey-Humboldt Town Library, 2735 Corral St., Humboldt.
#4 — Fandomania! a free Comicon event for all ages, takes place from 10 a.m. to 4 p.m. Saturday, July 27, at the Prescott Valley Public Library, 7401 E. Skoog Blvd. Performances, workshops and contests occur all day long. Costumes are encouraged, and not just comic book superheroes and fantasy characters. Winnie the Pooh and Mr. Rogers-type attire is fine, too. Live Mario Kart Races take place outside; Dungeons and Dragons, drawing, wand-making and weapons workshops inside; Cosplay fashion show and a dance contest are all on the schedule.
#5 — Shootout on Whiskey Row and the National Day of the Cowboy runs two days from 8 a.m. to 5 p.m. Saturday and Sunday, July 27-28, at the corner of Goodwin and Montezuma streets. Performers include the Prescott Regulators and their Shady Ladies. On Saturday, about 100 horse-and-riders are expected with the Prescott Long Riders 10-Mile Trail Ride. The ride starts at 9 a.m. coming through the Dells and culminating in an all-horse parade down Montezuma Street at 2:30 p.m.
For more information, call Neil Thomas, Prescott Regulators, at 928-499-0699 or Mike Tickle, Prescott Long Riders, at 602-550-5629.
#6 — Annual Iris Rhizome Sale is a free event from 10 a.m. to 3 p.m. on Saturday, July 27, at the Stoneridge Community Center, 1300 Stoneridge Drive, Prescott Valley. Come early to find the best selections of hundreds of iris varieties for sale in multitudes of colors and forms; planting and care instructions included. Portions of the proceeds support community outreach programs such as Yavapai College Horticulture Scholarships, Sharlot Hall Museum gardens and iris-education programs in local schools.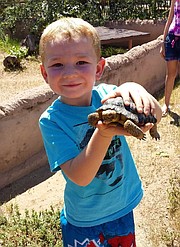 #7 — Zoo Littles at Heritage Park Zoological Sanctuary takes place on varying Wednesdays and Saturdays from 9:30 to 11:30 a.m.
The next event is Wednesday, July 31, where children ages 3 to 5 can participate in fun and engaging early educational activities focused on plant life and soil, sustainable food sources, animals and insects. The outdoor classroom has a full garden, worm compost station, natural play areas and a spot for storytelling. Cost is $10 per child for members, with one accompanying adult; $15 for non-members with one accompanying adult. Closed-toe shoes required. Classes take place rain or shine. Pre-registration is needed; call 928-778-4242 ext 18.
Want to let readers know of an upcoming event to spotlight in The Daily Courier's "7 in 7" series? Email information to stone@prescottaz.com.
Follow Sue Tone on Twitter @ToneNotes. Reach her at stone@prescottaz.com or 928-445-3333, ext. 2043.
More like this story
SUBMIT FEEDBACK
Click Below to: