Klotzbach retires after 39 years as owner of Heiji's Foreign Car Repair on Sheldon Street
By
Doug Cook
|
dougout_dc
Originally Published: July 20, 2019 7:41 p.m.
Updated as of Saturday, July 20, 2019 10:14 PM
For most of his life, Heiji Klotzbach has considered two sundrenched places home.
Honolulu, where he spent much of his youth, and Prescott, where he worked a majority of his adult life, are near and dear to this hard-working, 68-year-old American of German and Japanese ancestry.
And although Klotzbach does not plan to leave Prescott, he soon will be hanging up his wrench as the sole owner/operator of Heiji's Foreign Car Repair. Klotzbach has labored as a master mechanic for 39 years at his homey, modest shop at 208 E. Sheldon St., behind Prescott Glass & Mirror and Marriott's SpringHill Suites.
"I'm going to try to enjoy life," Klotzbach said July 16.
In early July, Klotzbach "officially" retired. However, he's spent the past two weeks turning over the business to his apprentice, Wesley Goodwin, 29, another master mechanic.
"He's been a huge part of my life," Goodwin said of Heiji. "I started here in high school and I learned a lot from him, both automotive and in general."
Klotzbach still has the Courier newspaper photo of him from when his shop opened in 1981. The small clipping is yellowed and brittle now, a reminder of his younger days.
Heiji (pronounced HAY-jee) has begun to show his age, too, from repetitive stress.
"A lot of this has to do with health issues," Klotzbach added, regarding his retirement. "My body's breaking down. I've had my left knee replaced, my back operated on, and my knee scoped. It was time."
Despite his health concerns, Klotzbach still enjoys working on cars and for "such wonderful clientele."
"I've had customers with me for 20-plus years," Heiji said. "I could have three or four cars going at the same time [in the garages here]."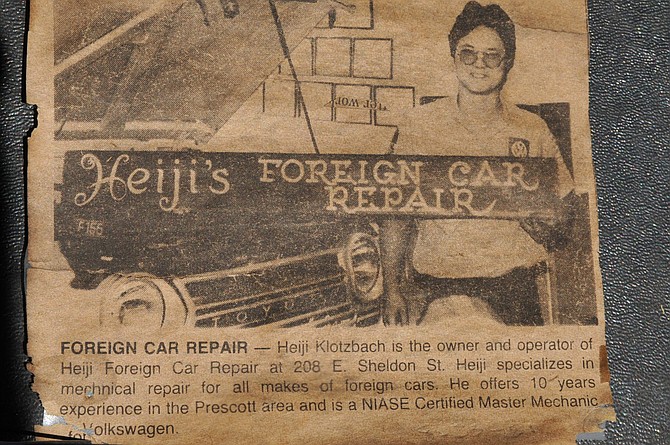 A TRUE AMERICAN
Klotzbach has lived in Prescott since 1970. Born in Washington, D.C., he spent his formative years in Hawaii, where he graduated from Kaimuki High School and subsequently served in the Navy.
Named after his maternal grandfather, Heiji said he grew up a "red-blooded American kid" who enjoyed hot rods.
"All of my friends loved cars," he added. "My dad was very mechanical, and I seemed to have an aptitude for it."
Heiji moved to Prescott because this is where his mother, Mitsue Shigeno, now 94, wound up. Initially, he had thought about returning to Hawaii, but he stayed in Prescott after meeting his future wife, Novie, a Native American.
Shigeno and Heiji's father, Carrol, met during the American occupation of Japan after World War II. It took a Congressional bill that President Harry S. Truman had signed into law for Shigeno to become a U.S. war bride.
Carrol, who was born in Kentucky in 1899 and fought in both world wars, was 25 years older than Shigeno. He died in 1969 at age 69.
After Heiji's father died, Shigeno remarried a family friend named Larry Ridennoure in Prescott in 1970. Heiji recalls visiting Prescott on leave from the Navy. In 1971, he was discharged and he relocated to Prescott to start his career as an auto mechanic at the former Orv Rowley Datsun, where he worked until 1975. He headed to the former Al Crawford Motors after that, repairing Volkswagens and Jeeps.
By August 1981, Heiji had built a sizeable clientele, prompting him to start his own business. He became the first certified master mechanic for Volkswagen. Heiji specialized in imports, although today he says he can fix just about any vehicle.
"I've stayed small, so that made it easy," Heiji said of his shop. "I was young enough and strong enough. I added a personal touch."
ONWARD AND UPWARD
Heiji and Novie have two grown sons, Rik, 42, and Ryan, 36, who now live in Phoenix.
Rik credited Heiji for playing an active part in the communities of Prescott and Prescott Valley through his work, coaching and refereeing soccer, raising a family, and donating time to various organizations.
Heiji and Novie, who retired in May after 33 years of teaching at Mountain View Elementary in Prescott Valley, plan to travel and spend more quality time with their two grandchildren, ages 4 and 6.
Although he plans to leave the shop by the end of July, Heiji considers himself semi-retired. He's already submitted his résumé to the Prescott Veterans Affairs Medical Center, 500 N. Highway 89, to try and be a shuttle driver.
Heiji's told Goodwin to call him if he needs anything. From 10 a.m. to 3 p.m. Friday, Aug. 9, Heiji said he's planning a get-together at the shop with hot dogs, pop and bottled water so his customers can drop by to meet Goodwin.
"I'm excited to carry on his [Heiji's] legacy," Goodwin said, "and my new adventure as owner/operator."
Doug Cook is a reporter for The Daily Courier. Follow him on Twitter at @dougout_dc. Email him at dcook@prescottaz.com or call 928-445-3333, ext. 2039.
More like this story
SUBMIT FEEDBACK
Click Below to: