Big names, shows set for Yavapai College Performing Arts Center
Tickets for 2019-20 season go on sale Monday

Originally Published: July 20, 2019 8:38 p.m.
Tickets for the 2019-20 season at the Yavapai College Performing Arts Center, featuring big names and shows all season long, go on sale Monday, July 22.
"A journey into the heart of classic country music; a date-night with the icons of '70s soft rock; a spellbinding musical journey into medieval Japan; a balletic romp with rescue dogs; and a grand theatrical event that takes live musical theatre to a whole new level," according to a news release from Yavapai College Marketing and Communication Specialist Michael Grady. "These are just a few of the places Yavapai College Performing Arts Center will take audiences in its ambitious, celebrity-packed 24-show season."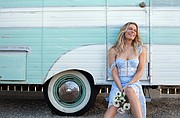 The 27th mainstage season begins with a healthy amount of country and bluegrass music, kicking off with two-time Grammy and CMA award winner LeAnn Rimes at 7 p.m. Sunday, Sept. 8, followed by the Steep Canyon Rangers at 7:30 p.m. Saturday, Sept. 28, and Clint Black celebrating the 30th anniversary of his "Killin' Time" album at 7:30 p.m. Thursday, Oct. 10.
September also sees British Actor David Payne diving into the mind and spirit of one of the 20th century's most inspirational authors during "An Evening with C.S. Lewis" at 7:30 p.m. Saturday, Sept. 21.
When Yavapai College holds a college-wide homecoming celebration in October, the Performing Arts Center is getting in on the fun with one of Comedy Central's "Hundred Best Comedians of all Time. At 7:30 p.m. Saturday, Oct. 19, Louie Anderson will anchor the homecoming events with his hilarious takes on everyday life. Then, in November, Andrew Lloyd Weber's "The Phantom of the Opera" takes to the stage, opening at 7 p.m. Thursday, Nov. 14. Its 7 p.m. shows continue Friday, Nov. 15, and Thursday through Saturday, Nov. 21-23, and its 3 p.m. shows run Saturday and Sunday, Nov. 16-17, and Sunday, Nov. 24.
Then comes the holiday season.
"Nobody does holidays like the PAC, and this year, they welcome the season (7 p.m. Saturday, Dec. 7) with luminaria, carols and tenor Mackenzie Gotcher in 'Let the Season Begin!' " the release states. "Livewire Theatre then throws the switch on 'A Very Electric Christmas' (7 p.m. Thursday, Dec. 12) a breathtaking, family-friendly story told in unforgettable holiday lights."
The holiday celebrations close with former Pink Martini singer Storm Large giving audiences her "sassy" take on the yuletide at 7:30 p.m. Friday, Dec. 20.
Four local favorites return for the first events of 2020, including "The Price is Right LIVE!", the local version of the popular game show, challenging audience members to compete for prizes and glory at 7:30 p.m. Friday, Jan. 17. The Texas Tenors come back at 7 p.m. Sunday, Jan. 26, as do the flashy ambassadors of jazz, The Hot Sardines, at 7 p.m. Sunday, Feb. 9 and the "Rhythm of the Dance," chronicling the Celts in step dancing and song at 7:30 p.m. Saturday, Feb. 22.
February ends with legendary musician, producer and Tijuana Brass frontman Herb Alpert joining forces with former Brazil '66 singer, Lani Hall at 7:30 p.m. Wednesday, Feb. 26.
"Then book passage for a splendid musical cruise to Medieval Japan, as the New York Gilbert and Sullivan players present 'The Mikado' (7 p.m. Saturday, March 7)," the release states, noting that weeks later, "YCPAC pivots from the sublime to the hysterical (7:30 p.m. Saturday, March 21) when improv geniuses Colin Mochrie and Brad Sherwood — of 'Whose Line Is It Anyway?' fame — are turned loose in Prescott for 'Brad & Colin — Scared Scriptless.' " The college gets its dose of magic and illusions with Mike Super and a mind-blowing evening of family-friendly magic at 7 p.m. Friday, March 27.
In April, Little River Band will have audiences remembering classic 1970s hits during their show at 7:30 p.m. Friday, April 3 before Yavapai College Performing Arts comes back to the stage with Kander & Ebb's musical, "Chicago," opening at 7 p.m. Thursday, April 23. It also runs at 7 p.m. Friday, April 24, at 2 and 7 p.m. Saturday, April 25 and at 3 p.m. Sunday, April 26.
The season closes out with animal acrobatics and a tribute band saluting the 1970s Swedish pop sensation: Abba.
"Get ready for some four-legged animal acrobatics (2 and 7 p.m. Saturday, May 2), when "Chris Perondi's 'Stunt Dog Experience' captivates families with its crew of astounding rescue dog athletes," the release states. "YCPAC concludes its mainstage season (at 7:30 p.m. Friday, May 8) with 'ABBA the Concert,' an amazing tribute band salute to the creators of 'Mamma Mia!,' 'Winner Takes It All,' and, of course, 'Dancing Queen.' "
Tickets for all of these shows can be purchased online at www.ycpac.com, at the Yavapai College Performing Arts Center Box Office, 1100 E. Sheldon St. or by calling the box office at 928-776-2000.
For more information about the season, visit www.ycpac.com.
More like this story
SUBMIT FEEDBACK
Click Below to: