7 in 7: The Dude, the duets, the fort
Lots of music, territorial history, science, geology this coming week

Originally Published: July 16, 2019 8:20 p.m.
Updated as of Wednesday, July 17, 2019 12:53 PM
This week's events listed in "7 in 7" involve free music concerts on the Yavapai County courthouse plaza and Prescott Public Library, a historical overview of nearby Fort Whipple, as well as the geology of the Grand Canyon.
The Daily Courier offers a "7 in 7" look ahead, printed each Wednesday, of seven events happening around the Quad Cities occurring over the next seven days. This week, all events except for one that accepts cash donations are free.
1 — "The Big Lebowski" shows at the Elks Theater and Performing Arts Center in its Wednesday Movies at the Elks, 7 p.m. Wednesday, July 17. See Jeff Bridges as "The Dude" and his friend played by John Goodman in this cult film by Joel and Ethan Coen. Admission is a cash donation; location is 117 E. Gurley St., Prescott.
2 — Facing the Doce Fire is the subject of a presentation by Tim Wiederaenders, senior news editor for Prescott News Network, at 6:30 p.m. Wednesday, July 17, at the Dewey-Humboldt Firewise meeting in council chambers, 2735 S. Highway 69, Suite 10, off Main Street, Humboldt. Wiederanders will talk about his experience looking into the flames of the 2013 Doce Fire from the Williamson Valley side of Granite Mountain.
3 — A Universe of Stories with ScienceTellers has been canceled. The substitute, according to the Prescott Public Library, will be LEGO Drop-in, which takes place at 10 a.m. and again at 1 p.m. Thursday, July 18, at the Prescott Public Library, 215 E. Goodwin St.
4 — Estate Planning for Couples with Children from Prior Marriages is the subject of a free Senior Connection Speakers Bureau presentation from noon to 1 p.m. Thursday, July 18, at Las Fuentes Resort Village, 1035 Scott Drive, Prescott. Chip McLaughlin, with the Law Offices of Chester B McLaughlin, will explain how to provide for your surviving spouse while protecting your children's inheritance through the use of irrevocable trusts. RSVPs appreciated to Debbie@SeniorConnection.us or 928-778-3747.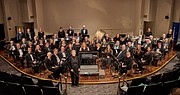 5 — Central Arizona Band plays popular tunes from 7 to 8:30 p.m. Thursday, July 18, at the Yavapai County courthouse plaza. This band plays on the third Thursday of the month in Prescott's Summer Series. Free, bring a blanket or chair and enjoy the band in the al fresco air of downtown Prescott.
6 — Third Friday Chamber Music takes place at 3:30 p.m. Friday, July 19, in the Founders Suite of the Prescott Public Library, 215 E. Goodwin St. Included on the play list are "Cello Duets: Allegro" by Kummer and "Melodia de Arrabal" by C Gardel; "Sonata" by Paul Hindemith (clarinet, piano); "Variations on a Corelli Theme" by Michel Blavet (flutes); and "Three Operatic Duets" from Donizetti's "Lucrenzia."
7 — Frontier Arizona Experience at Fort Whipple is a free event involving living history interpreters — soldiers, officers and their wives — in the Arizona Territory. The Fort Whipple Museum is open from 10 a.m. to 3 p.m. Saturday, July 20, on the grounds of the Bob Stump Veterans Affairs Medical Center at 500 Highway 89. Built in 1864, the fort was at times inactive, becoming a hospital in 1918 with 900 sick beds.
BONUS: Prescott City Council Candidate Forum takes place from 6:30 to 8 p.m. Thursday, July 18, at the Prescott Centennial Center, 1989 Wineglass Drive. The nonprofit organizations of Prescott Good Governance and the League of Women Voters of Central Yavapai County host this event to inform people of candidates' positions. Come hear challenger Cathey Rusing and incumbents Jim Lamerson, Billie Orr and Steve Sischka answer prepared questions as well as questions submitted by the audience.
Want to let readers know of an upcoming event to spotlight in The Daily Courier's "7 in 7" series? Email information to stone@prescottaz.com.
Editor's Note - this article has been updated to correct the location of the Prescott City Council Candidate Forum, and the ScienceTellers listing.
More like this story
SUBMIT FEEDBACK
Click Below to: