2 Humboldt school district employees receive VIP award
Custodian finds water pipe leak; secretary helps school board after tragedy

Originally Published: July 16, 2019 10:03 a.m.
Two Humboldt Unified School District classified employees received accolades and the VIP of the Month award at the HUSD Governing Board meeting July 9.
Team player Stacy Marcus stepped into the role of school board secretary for the district this past year after the sudden death of Mary Diaz, all the while keeping up with her other duties. Marcus, administrative secretary of Federal Programs and School Innovation, was also filling in for the administrative secretary of Educational Services.
"Stacy did not blink when asked to do this, and this speaks to only a few of the many examples of her willingness to ride for the brand," wrote Dr. Rob Bueche, executive director of Federal Programs/Education Services, in his nomination.
Bueche said Marcus' attention to detail allows her to ensure effective tracking of revisions, changes and carryover additions to the budget, as well as stay in compliance with ever-changing regulations and processes.
"Her reliability is second to none in getting large amounts of work accomplished," he said.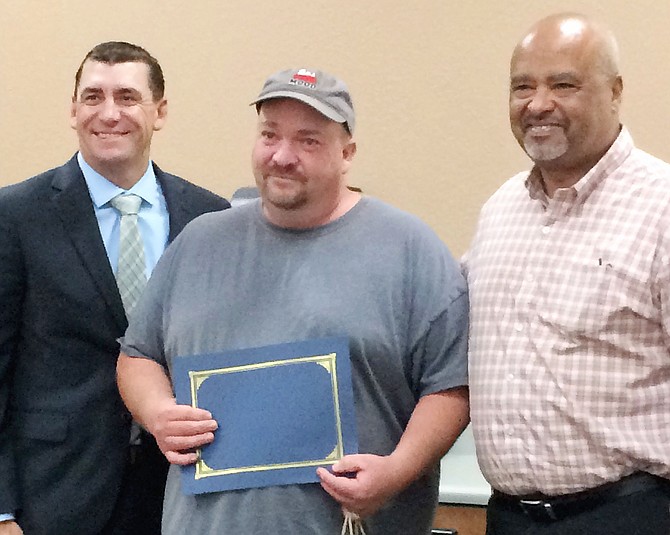 VIP of the Month
Chris Knabe, lead custodian for Bradshaw Mountain High School – East, received the VIP of the Month award in part for his diligent work habits and observation skills, said Ray Rosario, HUSD director of maintenance, who nominated Knabe for the honor.
"I can count on Chris day or night depending on what our needs are during any given week," Rosario said. "With so many events happening evenings and weekends, Chris is willing to cover any shift when needed."
Citing a particular incident on a Saturday in February, Rosario said Knabe happened on a major water pipe leak on the District Office campus. He saw "a small lake" forming north of the cafeteria and contacted the appropriate people to shut off the water.
This action saved the district from excess loss of water and associated cost, and from the possibility of damage to the foundation.
"Chris is a true team player and a great asset to my team and HUSD," Rosario said.
Follow Sue Tone on Twitter @ToneNotes. Reach her at stone@prescottaz.com or 928-445-3333, ext. 2043.
More like this story
SUBMIT FEEDBACK
Click Below to: