Education in Brief: Yavapai Cowbelles, Yavapai Cattle Growers award scholarships
Originally Published: July 6, 2019 7:27 p.m.
Yavapai Cowbelles, Yavapai Cattle Growers award scholarships
The Yavapai Cowbelles, in conjunction with the Yavapai Cattle Growers, have awarded scholarships for the 2018-19 academic school year to the following graduating high school students and continuing college students:
• Addie Daniels, Chino Valley, Le Tourneau University, majoring in Civil Engineering.
• Shelby Humbarger, Mayer, University of Arizona, majoring in Agricultural Technology
Management.
• Hailey Porter, Mayer, Yavapai College, majoring in Agricultural Technology Management.
• Rylee Powell, Mayer, Arizona Connections Academy, majoring in Paramedicine.
• Hayli Sizelove, Sedona, Northern Arizona University, majoring in Criminology and Criminal Justice.
This year, awards to students totaled $ 5,000. The opportunity to apply is yearly on the Yavapai Cowbelles website at www.yavapaicowbelles.org or through the counselors at the students' schools. The scholarships are open to high school and college students who reside in Yavapai County.
The Cowbelles raise funds for these scholarships through their brand quilt drawing. Tickets for this year's brand quilt may be purchased from any Cowbelle member. The tickets are on sale though the day of the drawing on Sept. 28.

Pauline Marie Buisson named to Sewanee Dean's List
Pauline Marie Buisson of Prescott has been named to the Dean's List at the University of the South in Sewanee, Tennessee, for the Easter 2019 term.
To earn a place on Sewanee's Dean's List, a student must earn a minimum grade point average of 3.625 on a 4.0 scale.
She is the daughter of Sophie and Pierre-Henry Buisson of Prescott.
Megan S. Crimmins named to Dean's List at Boston University
Megan S. Crimmins, a resident of Prescott, has been named to the Dean's List at Boston University for the spring semester.
Students generally must attain a 3.5 grade point average (on a 4.0 scale), or be in the top 30 percent of their class, as well as a full course load as a full-time student.
With more than 33,000 students, BU is the fourth-largest private university in the country.
PEO STAR Scholarship awarded to Tri-City's Emma Burns
The PEO STAR Scholarship for the 2019-20 academic year was presented to Emma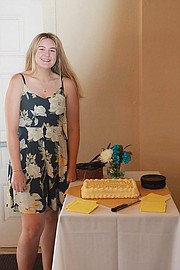 Burns, a senior at Tri-City College Prep at a luncheon in her honor at the Prescott Country Club.
Burns is the daughter of Brenda and Patrick Burns and was recommended for the scholarship by Chapter EC of Dewey. Burns has been accepted and will attend Northern Arizona University Honors College where she plans to study Criminal Justice and Forestry beginning this fall.
The $2,500 PEO STAR Scholarship is based on excellence in leadership, extracurricular activities, community service, academics and potential for future success.
The program is open to young women who are citizens or legal permanent residents of the United States or Canada and who are graduating high school seniors at the time of application.
A student must be recommended by a PEO Chapter.
For additional information, contact Sandra Boehm at 928-772-1951 or visit www.peointernational.org.
More like this story
SUBMIT FEEDBACK
Click Below to: