Breweries celebrate, collaborate for Arizona Beer Week

Originally Published: January 31, 2019 10:32 p.m.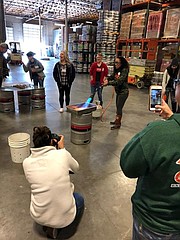 Breweries across Arizona are celebrating their craft and collaborating with each other for Arizona Beer Week, happening from Thursday, Feb. 7 to Saturday, Feb. 16 with more than 200 events occurring across the state.
Some of those events are happening in Prescott, such as Granite Mountain Brewing's kickoff party from 6 to 9 p.m. Thursday where two special beers will be released. One of those beers is called Persistence, created from the annual women's collaboration, said Granite Mountain Brewing owner Audra Yamamoto.
"Every year statewide, all the women of the craft beer industry get together at one of the breweries and we can actually brew our own beer," Yamamoto said. "We create the logo, the recipe, the style, all of that and kind of take control of that."
This year, women brewed at SanTan Brewing Company in Chandler. It's now the largest independent brewery in the state of Arizona, Yamamoto said.
The other beer is called Romo's Olde English Ale, crafted from a recipe by Chris Romo who is part of the Whiskey Row Brew Club, she said.
"We ran a competition with the Brew Club to create a strong beer style and selected that," Yamamoto said. "He came in and brewed with us and we're actually going to be releasing it at the Strong Beer Fest down in Phoenix."
Put on by the Arizona Brewers Guild, the Arizona Strong Beer Festival at Indian Steel Park, 300 E. Indian School Road in Phoenix, is one of the largest beer festivals in the state, she said.
The kickoff party will also have a DJ from 6 to 9 p.m. and some ladies night specials in honor of Persistence, Yamamoto said.
Additionally, Granite Mountain Brewing has its annual For the Love of Donuts donut and beer pairing on Thursday, Feb. 14. They've partnered with Outlaw Donuts, it starts at 4 p.m., costs $10 and goes until the donuts run out, she said.

"You get four five ounce samplers and four donut halves to pair with it," Yamamoto said.
Granite Mountain Brewing isn't the only Prescott brewery participating in Arizona Beer Week events though.
Park Plaza Liquor & Deli, 402 W. Goodwin St. has a tasting with Grand Canyon Brewing Friday, Feb. 8 from 5 to 7 p.m., is partnering with Superstition Meadery for a truffle and Berry White pairing on Feb. 14 and has a five course beer dinner with McFate Brewing Company on Saturday, Feb. 15. Seating for the five course dinner is limited and reservations must be made by calling Park Plaza Liquor & Deli at 928-541-9867.
Mark's Beer Garden, 1590 Swenson St., will see a Mother Road Tap Takeover on Feb. 7 and $1 off all Arizona drafts for the entire week.
Prescott Brewing Company, 130 W. Gurley St., is offering a pub burger and pint for $11 special the whole week along with $1 off regular pub bites excluding during happy hour. They will be at the Arizona Strong Beer Festival too.
It all comes to a head on Feb. 16 with the Northern Arizona Craft Beer Crawl, sponsored by The Barley Hound who are working with a lot of bars and breweries across Northern Arizona for a pub crawl where a portion of proceeds go to the Make-a-Wish Foundation, Yamamoto said. At each location, there will be at least one featured beer from $4 from Northern Arizona Breweries, she said. Participants include Coppertop Alehouse, Rickety Cricket Brewing, Jersey Lilly Saloon, Prescott Public House, Prescott Brewing Company, Lyzzard's Lounge, Raven Café, Granite Mountain Brewing and The Barley Hound and there will be selections from breweries in Cottonwood and Flagstaff as well as Grand Canyon Brewing and Mudshark Brewery in Lake Havasu City.

The Northern Arizona Craft Beer Crawl starts at 11 a.m. at The Barley Hound, 234 S. Cortez St., with an after party from 5 to 9 p.m. Tickets are $20 and available at barleyhound.eventbrite.com.
Yamamoto said she and other brewers really love Arizona Beer Week because it's a nice way for them to showcase to Prescott and to Arizona what it is they're doing and to celebrate Arizona breweries. It's also a chance for beer enthusiasts to come together.
"Learn a little something or other, ask a brewer a question that you've always wanted to know and get to sample some new beers, get to sample some of the different beers from Northern Arizona and from all over," she said. "Good beer brings good people together and it's just a nice way to celebrate."
For more information about Arizona Beer Week and to see the hundreds of events going on all over Arizona, visit www.arizonabeerweek.com.
More like this story
SUBMIT FEEDBACK
Click Below to: