Animals in luck: New rescue organization opens in Chino Valley

Originally Published: January 29, 2019 8:07 p.m.
Fortune favors the animals in need in and around Chino Valley with the formation of a new nonprofit called Luck is Up Animal Rescue.
The organization takes in all kinds of animals, said Danyelle Schott who formed the rescue alongside her partner, Donnell Dumos. So far the animals there include dogs, horses, donkeys and baby goats.
They bought the property, located at 756 S. Johnson Lane, a little more than a year ago and have been trying to get everything taken care of since then, Schott said. The two of them wanted to open a rescue because she has always loved animals, she said. Not only did she grow up with them, but she and Dumos have always taken them in, Schott said.
The name Luck is Up came about because the pair wanted something that was different and so people know how lucky the animals are when getting rescued out of bad situations, able to be taken care of by great volunteers or adopted, Schott said.
"When they get rescued they're so grateful," she said. "They'll stay here as sanctuary or they'll get new homes. Either way is fine."

In addition to finding the animals new homes, the two of them are working on ways to make the rescue nicer for the animals, such as improved fencing, a barn and indoor and outdoor dog runs, Schott said. Those projects are paid for partly through people donating items the two of them sell as well as through monetary donations, she said.
However, while their goal is to take in animals in need and find them homes, they don't want to end up with too many, Schott said. As such, they will take in as many as they can as long as there is plenty of space for the animals to run around without being overcrowded, she said.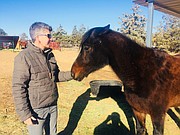 "We don't want to be overwhelmed with animals," Schott said. "We want to make sure that they have their needs."
If the rescue becomes overcrowded, the animals might get rescued, fed and cared for, but they would not be getting the proper exercise, which would take away from their rehabilitation, she said.
Another project being worked on is signage in front of the rescue, Schott said. The rescue is holding an open house on Saturday, March 2, and they want to have it by then, she said.
For more information about the Luck is Up Animal Rescue, Schott can be reached at dschottdumos@gmail.com or at 602-881-4767.
More like this story
SUBMIT FEEDBACK
Click Below to:
This Week's Circulars
To view money-saving ads...