Prescott High School aces term as student council host
Statewide convention finishes on a high note
By
Nanci Hutson
|
HutsonNanci
Originally Published: January 28, 2019 9:11 p.m.
From all accounts, Prescott High School's Student Council officers proved exemplary leaders in planning and executing the largest ever, two-day Arizona Association of Student Council convention.
Some 2,100 students from 157 high schools across the state — and chaperones — landed at Prescott High School on Thursday evening, Jan. 24, and departed after lunch on Saturday, Jan. 26. Between arrival and departure, the Prescott High Student Council leaders were all about offering all attenders — freshman to seniors — motivational speakers, workshops and entertainment intended to promote school spirit, propel civic involvement and provide each student with leadership ideals to last a lifetime.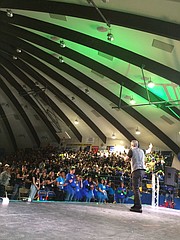 "For me convention was a huge success!" declared Student Council Senior Emma Townsend, the Arizona Association of Student Councils liaison for Prescott School's Student Council.
She recalled attending her first convention in Flagstaff as a high school freshman. She recalls how inspired she was to make changes within her school and community, and how determined she was to bring a convention to Prescott, a two-year process after Prescott won the during a convention vote in Lake Havasau City.
Those attending PHS' 2019 convention voted on the venue for the 2020 convention: North High School in central Phoenix.
"I am extremely proud of my council as were all able to come together and become so close as we lead together as well as adapted to all the hiccups we had," said Townsend who credited council advisor Dan Tyler for the countless hours he donated to the cause and now-graduated council leaders who helped pave the way.
Throughout the weekend, council members were navigating everything from lunch duty on campus to offering advice on must-see places to go for their visiting guests. Before the convention, council members tackled duties as varied as making a welcome video to choreographing opening night dance routines. They figured out how to handle the practical business matters of the convention down to managing stage and sound equipment, some of which proved troublesome at the start.
For weeks, council leaders pored over notebooks full of plans for every aspect of the weekend.
Part of the convention business included selection of a new state-wide charity: The students voted to support the Juvenile Diabetes Foundation for the next three years. PHS' charity for the year is the Coalition for Compassion and Justice.
"At the end of the day, the only thing I wanted was to allow a place where student leaders from across the state of Arizona could come together and create change," Townsend said. "Because if one life was changed at state this year like my life was changed my freshman year at Coconino High the whole event would be a success in my mind."
Follow Nanci Hutson on Twitter @HutsonNanci. Reach her at 928-445-3333 ext. 2041.
More like this story
SUBMIT FEEDBACK
Click Below to: