Postal prices take big jump; first-class stamps now 55 cents
Originally Published: January 28, 2019 9:07 p.m.
It seems like prices are going up everywhere, and that includes the U.S. Postal Service, too.
The cost of mailing a 1-ounce letter increased from 50 cents to 55 cents on Sunday, Jan. 27, the largest price change since 1991.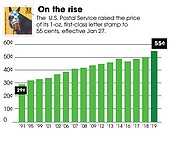 This was not the only price change at your local post office. The costs for mail services and domestic priority mail retail flat rate fees increased as well. The biggest jump in price was for APO/FPO large flat rate box fees, which increased from $17.40 to $18.45. Prices for additional letter ounces actually decreased from 21 cents to 15 cents, while there were no changes in costs for domestic post cards.
The Postal Service justified this rise by stating it offers some of the lowest letter mail postage rates in the industrialized world and continues to offer a great value in shipping.
"Unlike some other shippers, the postal service does not add surcharges for fuel, residential delivery, or regular Saturday or holiday season delivery," a press release from the Postal Service said.
During the 2018 fiscal year, the Postal Service reported a loss of about $3.8 billion.
President Donald Trump suggested the Postal Service increase its prices back in 2017 to compete with Amazon.
"Why is the United States Post Office, which is losing many billions of dollars a year, while charging Amazon and others so little to deliver their packages, making Amazon richer and the Post Office dumber and poorer," Trump tweeted. "Should be charging MUCH MORE!"
Ronald Brooks is not particularly happy with the cost increase. Brooks, a Prescott resident, lives on a fixed income since retiring and this affects his budget.
The former sports broadcaster said this price hike will probably change his mailing habits, and he most likely will use a smaller service not affiliated with the Postal Service.
"It's always too much," he said. "I don't think they are taking in to consideration retired people like me whose income doesn't flux."
George Johnston is a reporter for The Daily Courier. Follow him on Twitter at @GeorgeSJohnston. Reach him by email at gjohnston@prescottaz.com, or call 928-445-3333, ext. 2038.
More like this story
SUBMIT FEEDBACK
Click Below to: