Obituary: Dewey Eugene Born
Originally Published: January 26, 2019 7:36 p.m.
Dewey Eugene Born, born June 16, 1926, in a log home in Alamosa, Colorado, left us on Jan. 22, 2019.
Dewey was the great-grandson of one of Prescott, Arizona's earliest settlers, a miner named Carl Born. He was brought to Prescott from Colorado as an infant by his parents, Charles Dewey and Johanna Born. He attended Lincoln School, Washington School and Prescott High School, where he was a member of the wartime Class of 1944.
Dewey was a man of many talents and interests. At the age of 14, he and a fellow Boy Scout camped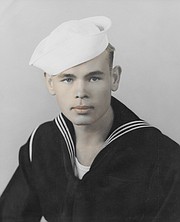 in the area now known as Granite Basin, serving as forest fire spotters. He was an avid marksman, earning an NRA award in marksmanship at an early age. Outside of school, he worked as a projectionist at the local Elks Theatre, as did his father.
At the age of 17, Dewey enlisted in the U.S. Navy, where he served as Radioman 1st Class on the USS Cahaba and USS Norris. After being honorably discharged at the end of WWII, he worked on stage plays, including "Oklahoma!" as well as on location sets for films, such as "Broken Arrow" with Jimmy Stewart.
Dewey then undertook his higher education, starting at Phoenix College and then earning his BS and MS degrees at Ohio State University. It was at this time that he married his hometown sweetheart, the former Ida Day, in March 1952. His career spanned several decades as a professor of anatomy and physiology for the Maricopa County Community College District.
Arizona has been home to Dewey and Ida for most of their lives. But they have also lived in almost every corner of the United States, including the states of Ohio, Florida, California, North Dakota and Colorado.
After retirement, the Borns settled in the Arizona communities of Dewey-Humboldt and Prescott Valley. In his later years, Dewey enjoyed gardening, traveling and writing his book, "Stories of Early Prescott," an authentic account of the town's early days.
As a scholar and an avid history buff, he held a deep interest in Bible prophesy and in Biblical history. He was both a true Christian and a Patriot.
Dewey is survived by his wife of 66 years, Ida C. (Day) Born; sons, Bryan Born, Charles James ("Jim") Born (Georgia); daughter, Valerie Born Stirek (Scott); six grandchildren and 10 great-grandchildren. And many, many friends. He will be greatly missed! Interment will be at 2 p.m. Wednesday, Jan. 30, at Mountain View Cemetery, Prescott, Arizona.
Information provided by survivors.
SUBMIT FEEDBACK
Click Below to:
More like this story