Heights Church opening second campus in Prescott Valley Haggen building
Originally Published: January 26, 2019 8:34 p.m.
It is a time of expansion with the Heights Church planning a second campus — this one on Highway 69 in Prescott Valley.
The new campus will be located at the former Haggen/Albertson's building, which neighbors Sonic Drive In. It is a 41,000-square-foot building, which is larger than the 30,000-square-foot campus the Heights has at its Prescott location, near the intersection of highways 89 and 89A off Larry Caldwell Drive, according to Pastor Ron Merrell.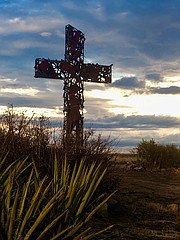 "We'll be able to do everything that we do at our current campus at the new one," Merrell said.
Inside the new campus will be areas for services, the young, and a coffee shop. The coffee shop will be open seven days a week and serve coffee to both parishioners and the general public, with all profits going to the church and charitable organizations, Merrell said. There also will be safe places for counseling and foster children to meet with their birth parents.
Funding for this second campus will come from a $3.5 million fundraising effort put on by the church. Whatever money is raised will be divided between the second campus and donations to Global Love Network, a charitable organization that helps citizens of war-torn countries in the Middle East — such as Jordan and Syria, Merrell added.
The Heights Church Prescott campus is nearing capacity on Sundays as well as some of the services it provides during the week, according to Merrell. This left the church with three options: turn people away, build an expansion to the Prescott building or open a second campus.
Discussions between Heights Church and the Town of Prescott Valley about the location began about six months ago, said Ben Hooper, Prescott Valley Economic Development manager. The church reached out to the town about filling the empty space and that thrilled town officials because the building has been vacant since late 2015.
"We are delighted that the Heights is making an investment in the Town of Prescott Valley," Hooper said. "After talking directly to their executive pastor and one of their associate pastors, I have a preliminary understanding of what they want to accomplish in that location and, just like their current location, they are looking for ways to be active in the community and be supportive of our residents."
Merrell said Heights Church is not trying to muscle in on other churches or nonprofit organizations in Prescott Valley. He said the Heights Church loves those institutions and the good work they do.
"We just want to partner with other good churches and organizations that are already there and make the whole community better than it already is," Merrell said.
Feedback from Heights Church parishioners is one of excitement, Merrell said, adding that there are a lot of questions about the new campus, which church leadership is working to answer — still, people are looking forward to this new venture.
Heights Church hopes one day to open additional campuses in Flagstaff and Sedona, but those are dreams right now, Merrell said.
George Johnston is a reporter for Prescott News Network. Follow him on Twitter at @GeorgeSJohnston. Reach him by email at gjohnston@prescottaz.com, or call 928-445-3333, ext. 2038.
More like this story
SUBMIT FEEDBACK
Click Below to: