PV Police warn of coyotes in Viewpoint subdivision and nearby areas
Originally Published: January 25, 2019 9:04 p.m.
The Prescott Valley police want the public to know they are aware of the problems with coyotes in the Viewpoint subdivision and nearby areas.
They also advise residents against taking measures into their own hands to discourage these animals.
"Please be aware that it is unlawful to discharge a firearm within town limits, with extremely limited exceptions," said PVPD spokesperson Cody Chewning. "These are wild animals, and they generally will move on if they do not have food or water readily available."
On that note, pets — especially small dogs and cats — can be at risk of coyote attack if left outside and not monitored well.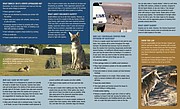 "Do not leave small animals unattended, even in fenced yards," Chewning said. "Do not under any circumstances leave food or water out for wildlife, and make sure your trash is secured."
For more information, Game & Fish provides information about this at www.azgfd.com/PortalImages/files/wildlife/livingwith.
Information provided by the Prescott Valley Police Department.
SUBMIT FEEDBACK
Click Below to: