Book Review: 'Unsheltered,' by Barbara Kingsolver
Reviewed by Susan Lang, Peregrine Book Company Event Coordinator
Originally Published: January 24, 2019 9:20 p.m.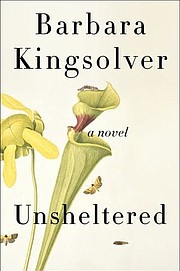 I very much enjoyed Barbara Kingsolver's latest New York Times best selling novel, Unsheltered, and was happy to see that it was an NPR pick for Best Books of 2018, as well as one of The Christian Science Monitor's best fiction reads of 2018. And there have been other awards. Nevertheless, the book has been controversial since it dares to tackle the era we live in and present it as an existential threat. But Kingsolver has never shied away from controversial ideas; she once said at a reading here in Prescott that she likes to start her novel with an idea and build her story around it.
Willa Knox, a woman who has worked hard and been responsible all her life, along with her equally responsible and hard working husband, nears what should have be retirement for both of them. Instead she finds that "the rules don't apply anymore," and that, through no fault of either of them, they've been knocked back to starting level salaries because of cultural shifts. She also learns that their house is literally coming apart at the seams–and that is just the beginning of the unraveling of their well-earned financial "safety net."
Although much of the book deals with Knox's resilient struggle and eventual finding of aspects in herself that she needs to survive, Unsheltered also gives us another story of resilience and survival with the original inhabitants of the area. This happens when Knox does historical research into the origins of the place, hoping to earn a historical preservation grant to restore her crumbling house and discovers a quite wonderful story involving a utopian community, a self-taught natural historian, Mary Treat (my favorite character), who corresponds with Charles Darwin, and Treats friend who is a teacher in the utopian community, attempting to impart Darwin's theories to his students. How these two stories 140 years apart come to complement and explain each other is a major and brilliant accomplishment of Kingsolver's novel. Don't miss this one!
More like this story
SUBMIT FEEDBACK
Click Below to: