Now Showing: Jan. 25-31
Originally Published: January 24, 2019 3 p.m.
Movies playing at Harkins Theatres, 7202 Pav Way, Prescott Valley (Highway 69 between Glassford Hill and Lake Valley roads), as of press time. 928-775-7444; www.harkins.com.
(NEW) THE KID WHO WOULD BE KING – Old-school magic meets the modern world when young Alex stumbles upon the mythical sword Excalibur. He soon joins forces with a band of knights and the legendary wizard Merlin when the wicked enchantress Morgana threatens the future of mankind. Stars Louis Ashbourne Serkis, Tom Taylor, Rebecca Ferguson, Patrick Stewart. Rated PG – fantasy, action.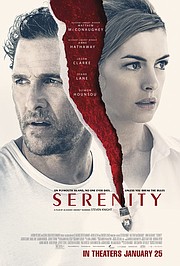 (NEW) SERENITY – Baker Dill is a fishing boat captain who leads tours off of the tranquil enclave of Plymouth Island. His peaceful life is soon shattered when his ex-wife Karen tracks him down. Desperate for help, Karen begs Baker to save her – and their young son – from her violent husband. She wants him to take the brute out for a fishing excursion – then throw him overboard to the sharks. Thrust back into a life that he wanted to forget, Baker now finds himself struggling to choose between right and wrong. Stars Matthew McConaughey, Anne Hathaway, Diane Lane, Jason Clarke, Djimon Hounsou, Jeremy Strong. R – drama, thriller.
(NEW) STAN & OLLIE – Laurel and Hardy – the world's greatest comedy team – face an uncertain future as their golden era of Hollywood films remain long behind them. Diminished by age, the duo set out to reconnect with their adoring fans by touring variety halls in Britain in 1953. The shows become an instant hit, but Stan and Ollie can't quite shake the past as long-buried tension and Hardy's failing health start to threaten their precious partnership. Stars Steve Coogan, John C. Reilly, Nina Arianda, Sherley Henderson, Danny Huston, Rufus Jones. PG – drama, comedy.
Also showing:
IF BEALE STREET COULD TALK – In early 1970s Harlem, daughter and wife-to-be Tish vividly recalls the passion, respect and trust that have connected her and her artist fiancé Alonzo Hunt, who goes by the nickname Fonny. Friends since childhood, the devoted couple dream of a future together, but their plans are derailed when Fonny is arrested for a crime he did not commit. Stars Stephan James, Regina King, and Kiki Layne. Rated R – drama, crime.
GLASS – M. Night Shyamalan brings together the narratives of two of his standout originals — 2000's Unbreakable, from Touchstone, and 2016's Split, from Universal — in one explosive, all-new comic-book thriller: Glass. From Unbreakable, Bruce Willis returns as David Dunn as does Samuel L. Jackson as Elijah Price, known also by his pseudonym Mr. Glass. Joining from Split are James McAvoy, reprising his role as Kevin Wendell Crumb and the multiple identities who reside within, and Anya Taylor-Joy as Casey Cooke, the only captive to survive an encounter with The Beast. Following the conclusion of Split, Glass finds Dunn pursuing Crumb's superhuman figure of The Beast in a series of escalating encounters, while the shadowy presence of Price emerges as an orchestrator who holds secrets critical to both men. Rated PG-13 – drama, fantasy.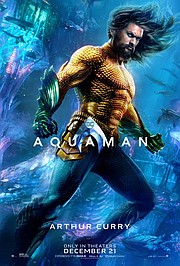 AQUAMAN – Once home to the most advanced civilization on Earth, the city of Atlantis is now an underwater kingdom ruled by the power-hungry King Orm. With a vast army at his disposal, Orm plans to conquer the remaining oceanic people – and then the surface world. Standing in his way is Aquaman, Orm's half-human, half-Atlantean brother and true heir to the throne. With help from royal counselor Vulko, Aquaman must retrieve the legendary Trident of Atlan and embrace his destiny as protector of the deep. Stars Jason Momoa, Amber Heard, Willem Dafoe, Patrick Wilson, Dolph Lundgren, Yahya Abdul-Mateen II, Nicole Kidman. PG-13 – fantasy, science fiction.
THE UPSIDE – Phillip is a wealthy quadriplegic who needs a caretaker to help him with his day-to-day routine in his New York penthouse. He decides to hire Dell, a struggling parolee who's trying to reconnect with his ex and his young son. Despite coming from two different worlds, an unlikely friendship starts to blossom as fun-loving Dell shows curmudgeonly Phillip that life is worth living. Stars Kevin Hart, Bryan Cranston, Nicole Kidman. PG-13 – drama, comedy.
A DOG'S WAY HOME – As a puppy, Bella finds her way into the arms of Lucas, a young man who gives her a good home. When Bella becomes separated from Lucas, she soon finds herself on an epic, 400-mile journey to reunite with her beloved owner. Stars Ashley Judd, Jonah Hauer-King, Alexandra Shipp, Wes Studi, Edward James Olmos, Bryce Dallas Howard. PG – drama, adventure.
ESCAPE ROOM – Six adventurous strangers travel to a mysterious building to experience the escape room – a game where players compete to solve a series of puzzles to win $1 million. What starts out as seemingly innocent fun soon turns into a living nightmare as the four men and two women discover each room is an elaborate trap that's part of a sadistic game of life or death. Stars Taylor Russell, Logan Miller, Deborah Ann Woll, Tayler Labine, Jay Ellis, Nik Dodani. PG-13 – mystery, science-fiction.
MARY POPPINS RETURNS – Now an adult with three children, bank teller Michael Banks learns that his house will be repossessed in five days unless he can pay back a loan. His only hope is to find a missing certificate that shows proof of valuable shares that his father left him years earlier. Just as all seems lost, Michael and his sister receive the surprise of a lifetime when Mary Poppins – the beloved nanny from their childhood – arrives to save the day and take the Banks family on a magical, fun-filled adventure. Stars Emily Blunt, Lin-Manuel Miranda, Ben Whishaw, Emily Mortimer, Julie Walters, Dick Van Dyke, Angela Lansbury, Colin Firth, Meryl Streep. PG – fantasy, adventure.
BUMBLEBEE – On the run in the year 1987, Bumblebee the Autobot seeks refuge in a junkyard in a small California beach town. Charlie, on the brink of turning 18 years old and trying to find her place in the world, soon discovers the battle-scarred and broken Bumblebee. When Charlie revives him, she quickly learns that this is no ordinary yellow Volkswagen. Stars Hailee Steinfeld, John Cena, Jorge Lendeborg Jr. John Ortiz, Jason Drucker, Pamela Adlon. PG-13 – science fiction, action.
SPIDER-MAN: INTO THE SPIDER-VERSE – Bitten by a radioactive spider in the subway, Brooklyn teenager Miles Morales suddenly develops mysterious powers that transform him into the one and only Spider-Man. When he meets Peter Parker, he soon realizes that there are many others who share his special, high-flying talents. Miles must now use his newfound skills to battle the evil Kingpin, a hulking madman who can open portals to other universes and pull different versions of Spider-Man into our world. Stars Shameik Moore, Jake Johnson, Hailee Steinfeld, Mahershala Ali, Brian Tyree Henry, Lily Tomlin, Luna Lauren Valez, John Mulaney, Nicolas Cage, Live Schreiber. PG – fantasy, science fiction.
THE MULE – Broke, alone and facing foreclosure on his business, Earl Stone takes a job as a drug courier for a Mexican cartel. His immediate success leads to easy money and a larger shipment that soon draws the attention of hard-charging DEA agent Colin Bates. When Earl's past mistakes start to weigh heavily on his conscience, he must decide whether to right those wrongs before law enforcement and cartel thugs catch up to him. Starring Clint Eastwood, Bradley Cooper, Laurence Fishburne, Michael Peña, Dianne Wiest, Andy Garcia. R – crime, mystery.
VICE – Governor George W. Bush of Texas picks Dick Cheney, the CEO of Halliburton Co, to be his Republican running mate in the 2000 presidential election. No stranger to politics, Cheney's impressive résumé includes stints as White House chief of staff, House Minority Whip and defence secretary. When Bush wins by a narrow margin, Cheney begins to use his newfound power to help reshape the country and the world. Stars Christian Bale, Amy Adams, Steve Carell, Sam Rockwell, Tyler Perry, Alison Pill, Jesse Plemon. Rated R – drama, history.
GREEN BOOK – Dr. Don Shirley is a world-class African-American pianist, who is about to embark on a concert tour in the Deep South in 1962. In need of a driver and protection, Shirley recruits Tony Lip, a tough-talking bouncer from an Italian-American neighbourhood in the Bronx. Despite their differences, the two men soon develop an unexpected bond while confronting racism and danger in an era of segregation. Stars Viggo Mortensen, Mahershala Ali, Linda Cardellini. PG-13 – drama, comedy.
BOHEMIAN RHAPSODY – Bohemian Rhapsody is a foot-stomping celebration of Queen, their music and their extraordinary lead singer Freddie Mercury. Freddie defied stereotypes and shattered convention to become one of the most beloved entertainers on the planet. The film traces the meteoric rise of the band through their iconic songs and revolutionary sound. They reach unparalleled success, but in an unexpected turn Freddie, surrounded by darker influences, shuns Queen in pursuit of his solo career. Having suffered greatly without the collaboration of Queen, Freddie manages to reunite with his bandmates just in time for Live Aid. While bravely facing a recent AIDS diagnosis, Freddie leads the band in one of the greatest performances in the history of rock music. Queen cements a legacy that continues to inspire outsiders, dreamers and music lovers to this day. Rami Malek, Lucy Boynton, Gwilym Lee, Ben Hardy, Joe Mazzello, Aidan Gillen, Tom Hollander, Mike Myers. PG-13 – drama, biography.
SUBMIT FEEDBACK
Click Below to:
More like this story