Museum exhibit features pioneer precursor to online shopping
Originally Published: January 22, 2019 8:56 p.m.
Catalog shopping was the pioneer to Amazon, and the Google search technique for frontier families in need of necessities in years past. A special exhibit at Sharlot Hall Museum opens this weekend that showcases the convenience and varied content available a century ago – not online, but through mail-order catalog purchases.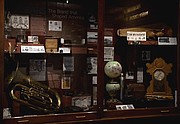 Richard Sears and Alvah Roebuck first published a catalog in the late 1880s that featured popular pocket watches. Julius Rosenwald joined the company in 1889, and expanded the "Book of Bargains" to include fashions and millinery products.
This became the foundation for Sears, Roebuck & Company's mail-order enterprise, sent free to anyone who requested the catalog. For decades and even in the most remote of places, anyone could place an order for household goods that would be shipped to them.
"Unlike a general store or local mercantile that had limited choice and pricey merchandise, the catalog offered buyers a way to purchase mass-produced goods," explained Kylin Cummings, curator of collections at the museum.
From its simple beginnings, the "Book of Bargains" became "The Great Price Maker" by 1908, with product offerings that included hats, handbags, undergarments and finished clothing.
By this time, offerings expanded further to include hair curling irons, kerosene lanterns, kitchen utensils, farm implements, and kitchen stoves. One could purchase a complete pre-built house, a carriage (horse-drawn and horseless), a bird cage, a violin, a farm wagon, a coffin or a grave headstone – all by post.
The mini-exhibit reflects the diversity of merchandise available through the cabinet, "including the prices," said Cummings noting that the order form was so complicated that "it was like filling out a tax return."
"So common was the Sears, Roebuck catalog," continued Cummings, "that it was very common for them to be wish-list reading in the house, and for use in out-houses as toilet paper when times were tough.
The special exhibit is in the foyer of the Lawler Center at Sharlot Hall Museum, and is available for inspection during normal hours. The museum is located at 415 W. Gurley Street, and is open Monday to Saturday, 10 a.m. to 4 p.m., and Sunday, noon to 4 p.m.
Information provided by Sharlot Hall.
More like this story
SUBMIT FEEDBACK
Click Below to:
This Week's Circulars
To view money-saving ads...