2 suspects arrested after 12 pounds of heroin found in trunk of car
Police: Heroin street value about $500,000
Originally Published: January 22, 2019 5:13 p.m.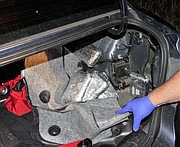 A man and woman from New Mexico were arrested by the Yavapai County Sheriff's Office (YCSO) on Jan. 16 after 12 pounds of heroin was found in their vehicle.
Around 11:30 p.m., a YCSO K9 deputy stopped a blue sedan for moving violations on north Interstate-17 in the Cordes Lakes area, YCSO reported. Juan Breceda, 37, was driving and Laura Carrasco, 32, was in the passenger seat. Both are from New Mexico.
While talking with the driver, the deputy noticed ground up marijuana residue on the front passenger side floorboard.
A records check showed both Breceda and Carrasco had active warrants for their arrest. Breceda remained unusually nervous throughout the traffic stop and downplayed his known criminal history, YCSO reported. He denied travelling with anything illegal and, when asked, consented to let deputies check his vehicle for contraband.
Deputies first found a marijuana cigarette inside a cigar package stored in a passenger door compartment. They then checked the trunk and noticed the interior lining looked disturbed. When pulled back, several drug packages were found. Field tests of their content returned positive for heroin. The total weight of all packages was 12 pounds.
"Estimated street value for this load is well in excess of half a million dollars," said YCSO spokesperson Dwight D'Evelyn.
In a follow-up interview with Carrasco, she admitted to trafficking the narcotics and said Breceda had full knowledge, YCSO reported.
"Detectives are continuing their investigation into the operation including identification of suspects involved at both the source and destination for this drug load," D'Evelyn said.
The suspects were booked into the Yavapai County jail on charges including possession for sales of a controlled substance, possession of a controlled substance and possession of paraphernalia. Both remain in-custody, each on a $150,000 bond.
More like this story
SUBMIT FEEDBACK
Click Below to: