Carrying on MLK's legacy in Prescott - see gallery
'This type of work is a lifestyle' – Brittini Ward, Prescott Umoja
Photo Gallery
MLK Day Peace And Justice March 2019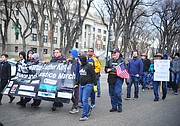 The message was loud and clear: Prescott marched in celebration of Martin Luther King's message of equality for all – and a lot more work needs to be done to make the Quad-cities a more inclusive, welcoming community.
Several hundred participants walked from Prescott College to the Yavapai County Courthouse and then to the Prescott United Methodist Church in light rain and a chill wind Jan. 21 in support of Martin Luther King, Jr. Day of Service. Signs and banners called for peace, justice and equality for all people.
Toward the end of the marchers' route, as they turned onto the church property, the Bradshaw Mountain High School drumline triggered some dancing in the street. Participants welcomed the coffee, hot chocolate, and breakfast items before finding a seat inside for the celebration program.
About 400 people of all ages and races filled the church to hear two keynote speakers and the inspiring St. Luke's Ebony Church choir. Dr. King's "I Have a Dream" speech led off the presentation, drawing rousing applause.
Prescott Vice Mayor Billie Orr read the city's MLK Day of Service Proclamation, which ended with "We are keeping Martin Luther King's dream for a better future alive." Four local high school students read stirring passages from Dr. King's words.
First keynote speaker Kendra Hobson from St. Luke's Ebony Church reminded people that for some, it feels like just yesterday they endured being pulled over, followed, stopped and harassed on a regular basis. She encouraged people to overcome apathy and get involved.
"Let us in the Tri-cities, Yavapai County, and Arizona lead the way in showing love in changing the current course we are on today," Hobson said. She acknowledged a small program on white privilege offered in Prescott last year, saying much more is needed. "We have more in common than we have in difference. We have to dare to allow ourselves to believe it."
Hobson's message included her experience when going outside the four walls of her home and seeing other African-American people in places like grocery stores.
"When you see someone who looks like you, it's comforting," she said. "If we don't feel accepted, we won't feel comfort. We cannot strive for unity and continue to self-segregate." Both she and the second speaker, Brittini Ward, received standing ovations from the audience following their speeches.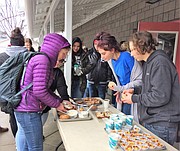 Ward, who hails from Detroit, came to Prescott to earn a master's degree from Prescott College. She reminded people that Arizona was the last state to recognize Martin Luther King, Jr. Day as a holiday in 1993 and did so only because of a threatened boycott from the Super Bowl committee.
Now, 24 years later, the East Valley Chapter NAACP considered a call to boycott Prescott because of comments made by Rep. David Stringer.
This year's theme, "Don't Sleep through the Revolution," is a call to make Prescott a better place to live, and to make a stand against racism and bigotry.
To make this, for everyone, their hometown, Prescott needs to be more inclusive to the ever-growing population of black and brown people, Ward said. "This type of work is a lifestyle."
Sarah Haber, AmeriCorps member through Prescott College's Arizona Serve, organized several opportunities for volunteers to participate in service projects. More than 100 volunteers had signed up, she said.
See Prescott MLK Day Peace and Justice March photo gallery
Follow Sue Tone on Twitter @ToneNotes. Reach her at stone@prescottaz.com or 928-445-3333, ext. 2043.
More like this story
SUBMIT FEEDBACK
Click Below to: