Fine day to express thoughts about women's, human rights
Marchers make their feelings known at Women March On event
Photo Gallery
Yavapai County Women March 2019
More than 1,000 participants showed up Saturday, Jan. 19, 2019, for the Yavapai County Women March On event on the courthouse plaza in downtown Prescott. Their reasons were varied, from making statements for women's rights and human rights in general to the environment or other concerns.
PRESCOTT — Even tempers and catchy slogans made the Yavapai County Women March On event on the courthouse plaza enjoyable while also making an important statement for women's rights, as well as human rights in general, and the environment.
Temperatures in the mid-50s and sunshine didn't hurt.
More than 1,000 participants – less than the 1,500 or more in previous years – showed up, some carrying signs, some wearing pink or red, to express their views. Wearers of pink hats generally were advocating for women's rights; the people in red shirts supported education issues.
As last year, a flash mob had fun dancing in front of the north side of the courthouse, where earlier Meg Bohrman and several other musicians led the audience in peace and protest songs.
"We are rising like flowers, out of concrete. We are rising like warriors, into these streets," Bohrman encouraged participants to chant. "It's not about getting it right. It's about getting it loud!"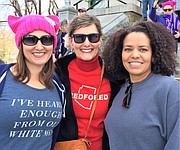 Friends Liz, 38, Susan, 67, and Stevie, 41, said they're participating because they are "concerned about the direction our country is going, its leadership is detrimental to the needs of us citizens and the entire world," Liz said.
"It's women's duty to come together on a regular basis," Stevie said. "Birth control should be available at all companies. I'm married with two children and it's my decision. It's 2019 – it's not right to deny access to birth control."
Click HERE to read more reasons people marched in the demonstration.
About a dozen protesters of the march stood at the corner of Montezuma and Cortez streets with Trump signs. Occasionally, a pick-up truck rounded the corner and tooted in support. Dan Elkins of Prescott carried signs stating, "Toxic Masculinity. You're kidding me, right?" and "Toxic Feminism Emasculates Males."
"I believe radical feminists are more toxic than whatever they think men are doing. The American Psychological Association is saying traditional masculinity is some kind of mental disorder. That's nonsense," said Elkins, who is 70-plus and strongly opposes abortion.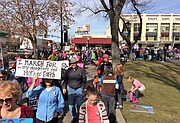 A former Californian, Carolyn Diaz of Prescott, acknowledged she shares some of the same beliefs as the marchers. "Sometimes we agree on things," she said, referring to one of her signs calling for the end of oppression for women with photos of women in hijabs. The other side said "Women for Trump." She carried a Trump flag.
Diaz said the two new Muslim congresswomen who wear head coverings are forced to do so by their religion and male leaders, unlike Catholic nuns who choose to wear their head piece. In Iran, women cannot go bare-headed without being arrested, she said. She would like the marchers to focus on oppressed women in Muslim countries. "Rather than hating Trump, they should be over there saving those women."
Marchers' signs included the black-and-white slogan "Equal means Equal." Others stated "Voting is Your Power" and "Men of Quality Don't Fear Equality," which was carried by Warren Miller, 73, of Prescott.
Women's marches took place all over the world Saturday, and also flooded the streets of the nation's capital in Washington, D.C., where the first marches occurred in 2017.
Editor's Note - To read more comments and insights from the marchers, visit the photo gallery - where March participants answered our question: "Why are you here today?" The gallery contains six photos of the March and 18 participant images and their comments.
More like this story
SUBMIT FEEDBACK
Click Below to: