The Women's Wave Art Exhibit

By
Nanci Hutson
|
HutsonNanci
Originally Published: January 17, 2019 10:23 p.m.
On a weekend devoted to celebrating women, Butifull Studio, 211 N. Granite St., will feature the perspective of women artists in its first juried Women's Wave art exhibit.
An opening reception that will offer attenders the chance to mingle and talk with the artists about their various paintings, drawings and sculptures is scheduled at the studio on Friday, Jan. 18, from 5 to 7 p.m. The exhibit will then reopen from 9 a.m. to 3 p.m. between Jan. 19 and Jan. 24.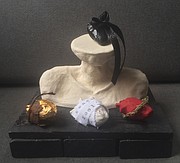 On Jan. 25, the final day of the exhibit that will coincide with the 4th Friday Art Walk, the studio located in the alley off West Willis across from Rosati's pizzeria and in front of the Restoration Church property, will be open between 5 and 8 p.m.
Show curator and Van Gogh Gallery artist Carol Russell said she is excited about the inaugural show, which she hopes will become an annual event offering female artists in the area a voice through their creative talents. Russell said she is impressed with the caliber of art presented by 11 Prescott-area women, a blend of professionals, those just launching their art careers and others who are "exploring art as a medium."
Russell offered a debt of gratitude to metal artisan Leslie Butitta for her willingness to allow the exhibit to hang in her studio space. She, too, offered thanks to Clementine Giordano for hanging all the artwork.
"I think it's fantastic," Russell said.
All of the art that is part of this exhibit is for sale at prices that will range from $60 to $1,200, Russell said.
The timing for the show themed a "Women's Wave" was intentional, Russell said. She said she and her "wonderful team" wanted to link the artistic voice of these women's pieces to those who will be lifting their voices as part of the Yavapai County Women's March On event scheduled for 1 p.m. Saturday in downtown Prescott. She said the participating artists are a diverse group from college students to retirees.
"The Women's March is an expression and the art show is just another facet of that expression," said Russell, noting she was inspired to create this show last fall due to the contentious state of politics.
The show will include awards for Best in Show – two dimensional; Best in Show-three dimensional; and a People's Choice award for those who attend the Friday night reception. A raffle will be offered with the prize a print from artist Maria Lynam.
"The artist reception will be a fun way to launch the Women's March the next day," Russell said. "I am delighted with the interest in the show and the support in the community I have found for this show happening."
More like this story
SUBMIT FEEDBACK
Click Below to: