PCA Stage Too the scene for 'Secrets of a Soccer Mom'
By
Doug Cook
|
dougout_dc
Originally Published: January 17, 2019 10:09 p.m.
Bill Osborne's directorial debut with Prescott Center for the Arts (PCA) came Jan. 17 with "Secrets of a Soccer Mom," a subject with which he had experience as the former varsity girls soccer coach at North High School in Phoenix.
For 20 years, from 1997-2017, Osborne taught photography, coached the Mustangs and dabbled in the Phoenix area's theater scene. He moved to Prescott soon thereafter with his wife, Celia, a sound and light board operator.
And despite what you might think, Bill, 68, often embraced his soccer moms for their passion.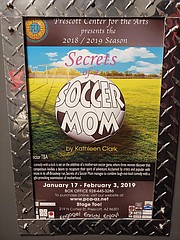 "I met a lot of soccer moms through the years," he said, "and each one has her own personality."
"Secrets of a Soccer Mom," a comedic play adapted from Kathleen Clark's original off-Broadway script of the same name in 2004, runs through Sunday, Feb. 3, at PCA's Stage Too, an intimate 50-seat theater at 219 N. Cortez St., located in the alley behind PCA's main theater building.
Tickets cost $19 per person when you buy them on PCA's website at: www.pca-az.net/stage-too-season.html, or call the box office at 928-445-3286. Show times include 7:30 p.m. on Jan. 18, 19, 24-26 and 31, and 2 p.m. on Jan. 20, 27 and Feb. 3. Audience members should be in their seats no later than 7:20 for the evening shows. Seats, which surround the 14-foot by 16-foot stage on three sides, are first come, first serve.
The story centers on only three characters, soccer moms Alison, Lynn and Nancy, each of whom are different ages with young sons. The one-act, four-scene play is set on a sideline and on a synthetic grass soccer field during a mother-son game on a Sunday afternoon in late fall in Prescott (instead of New York; setting in the original script).
"I liked soccer, and I wanted to get the soccer part right," said Osborne, whose background is in sound design, which he also does in "Secrets of a Soccer Mom." "It's a funny story. Our actresses have unique personalities. It's been a low-stress, pleasant experience directing."
Most of the play's action occurs off the playing field, however. Alison, Lynn and Nancy come to "discover" that the match ignites "a desire to recapture their spirit of adventure," PCA says in its promo. The play also examines motherhood and "a renewed determination to live in the moment," while making "new old friends," no matter your age.
Local actors Tina Boden-Blake (Nancy), Esther Kparyea (Alison) and Lexe Niekamp (Lynn) form the cast.
Alison's in her 30s and a former high school athlete. Lynn's in her early 30s, and she wears multiple hats as a mom, including being active in the local PTA. Nancy is in her 40s, and perhaps a bit more restless than the other mothers.
The play's conflict is both external, whether it's these moms' gripes with fellow family members and coaches, and internal – how the mothers come to grips with their inner feelings.
"They're all trying to find themselves," Osborne said. "They want to reconnect with who they used to be. I like how they get to express themselves."
More like this story
SUBMIT FEEDBACK
Click Below to:
This Week's Circulars
To view money-saving ads...