New mayor, 2 council members tackle difficult topic at first meeting
Teary goodbyes, and some stumbles mark first council meeting of year
For many in the packed auditorium, the farewells to two Prescott Valley council members and one mayor brought tears along with plentiful accolades at the first council meeting of the year Jan. 10.
Council member Jodi Rooney's words rang true in council chambers with her comment as she left the dais for the last time, "Change is good and we will embrace that change." Council member Michael Whiting, leaving after serving seven years on the council and with the Planning and Zoning Commission, was praised for his calm demeanor, business acumen and thoughtful work.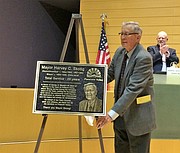 The most difficult loss on the council was Mayor Harvey Skoog who served Prescott Valley for 26 years. "When I grow up, I want to be just like him," said council member Marti Grossman.
Skoog's wife, Edna, stood beside him as others commended his leadership. Council member Rick Anderson thanked Edna for "loaning Harvey to us."
"The things you've shown us can't be learned from anyone else," Anderson said to Skoog.
Vice Mayor Lora Lee Nye described Skoog as a humanitarian, who also is ornery, with a wicked sense of humor, and yet is a "pure public servant."
In responding to the tributes, Skoog said he wasn't sure he deserved all those thanks, and then pointed out and thanked his administrative assistants in the audience. "The town has been so good to me. It's been a wonderful experience," he said.
Prescott Valley Magistrate Judge Keith Carson issued the Oath of Office to incoming council members Don Packard and Kendall Schumacher, and to new Mayor Kell Palguta. Palguta unveiled a large brass plaque honoring Skoog for his service, which will be placed on the concrete wall outside at the front of the Civic Center.
After a refreshment break, council reconvened into a public hearing on the contentious Antelope Park development in the Pronghorn subdivision.
PUBLIC HEARING
The public hearing concerned a zoning map change on three narrow pieces of property totaling four acres on both sides of Pronghorn Ranch Parkway. An amended Preliminary Development Plan approved by the P&Z Commission in December reconfigured the boundary for single-family lots.
This rezoning request from RCU-70 (Residential; Single Family Rural) to R1L-10 PAD (Residential; single family limited, Planned Area Development) is essentially a "clean-up" of the existing zoning boundary, said Richard Parker, PV Community Development director. At the end of the public hearing, the council considered the first reading of the zoning ordinance, but tabled the item for two weeks.
In his explanation, Parker talked about the recommendations from the engineer's traffic analysis that include turning lane improvements, widening of streets and a review of signal timing. He also mentioned the concern expressed previously by the public about ingress/egress emergency evacuation plans.
Comments from the public also covered traffic concerns, development, and property values. Palguta reminded the audience that the public hearing is about the zoning of the narrow property as indicated on the map.
Pronghorn resident Rob Esson also brought up an email communication between P&Z Commission Chair Matt Zurcher and the developer, David Maguire, which he considers unethical and a possible violation of personnel policy. He called for an investigation into the emails, and repeated other residents' requests to continue the agenda item on first reading.
Town Attorney Ivan Legler gave advice on procedural matters and how the council could proceed. Maguire said the agenda item is about land use, and his request is appropriate for the General Plan and for adjacent zoning.
"We have worked with staff for months and months, and fulfilled all requirements," he said, adding that he also has volunteered to do improvements that are not required by the town by widening Viewpoint Drive. He saw no reason to delay consideration of first reading of the zoning ordinance.
Council voted unanimously to table the item and bring it back in two weeks. Palguta asked that the comment regarding impropriety be looked into and Legler said that would be done.
In other matters, council:
• Approved a budget transfer of $9,459 from contingency funds to Police Administration Legal Services.
• Completed a first reading of annexation of 9.5 acres of Fain Land & Cattle Company property near the intersection of Highway 69 and Fain Road.
• Completed a first reading of a zoning map change request for the Bungalows at Talking Glass located at Glassford Hill Road and Long Look Drive.
More like this story
SUBMIT FEEDBACK
Click Below to: