Missed opportunities doom Badgers in 2-1 loss to rival Flagstaff
Prep Girls Soccer
Originally Published: January 17, 2019 9:35 p.m.
PRESCOTT — On Thursday night under a slight drizzle of rain, the No. 4-ranked Prescott girls soccer team hosted rival Flagstaff at Bill Shepard Field on senior night.
Despite Prescott (10-4, 2-1 Grand Canyon) controlling much of the possession and creating the better offensive opportunities, it was the No. 9-ranked Eagles that were able to capitalize most, winning 2-1.
The game was tied 0-0 at halftime and seemed to be leaning Prescott's way before Samantha Slaughter headed a cross over the goalkeeper in the 55th minute to give the Eagles the lead. The initial goal seemed to rattle the Badgers a little bit, as just under two minutes later Hailey Schlenker was left unmarked on a long ball and found the back of the net giving her team the eventual game winning goal.
Photo Gallery
Prescott Vs Flagstaff Girls Soccer 011719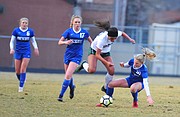 Emma Alvarez had the lone goal for the Badgers.
"I think that we played well, given the circumstances," Emma Alvarez said. "The field wasn't very easy to play on but we could've improved on some things that would've helped us but I think we played really great."
As Alvarez alluded to, the Badgers seemed to play well, but it was a game of missed opportunities with them seeming to have the more dangerous chances, with some being on an open net that just wouldn't go in.
In the game Prescott had two balls saved off the line by Eagle defenders and a third shot that hit the crossbar.
"There were a couple open net shots that were right there but that's part of being a good team and they're a good team," Prescott head coach Paul Campuzano said. "They find a way to get back and block those what seemed like certain goals, especially those two or three in the second half right in front of the goal mouth; maybe another day they go in, just not tonight."
A day after moving the boys soccer game due to poor field conditions, the Badgers and Eagles (6-4-1, 2-0 Grand Canyon) played at Bill Shepard field and the conditions were not ideal. The grass playing surface from rain on Tuesday seemed to create a slick field that both teams had to play through.
"I think this field normally isn't very amazing but if had been dry and not so slick we could've improved our passing, not that it was bad, but it definitely would've helped," Alvarez said.
Campuzano is happy this will be one of the final games ever played on this grass field with new turf expected to be installed by next season.
"I'm just happy that unless we host a game in state, this is the last time we play on this field," Campuzano said. "We get a new turf field next year, but both teams were in the same boat sliding around. We obviously would prefer a nice turf field with how we play but they handled it as well."
UP NEXT
The Badgers will finish their season with three-straight road games, which start on Tuesday, Jan. 22, at 3 p.m. when they travel to Coconino.
With the victory, the Eagles jump to second place in the region standings behind Mohave, who they will be in action against next when they host the Thunderbirds on Tuesday, Jan. 22, at 3 p.m.
Chris Whitcomb is a sports reporter for The Daily Courier. Follow him on Twitter at @AZChris32. Email him at cwhitcomb@prescottaz.com, or call 928-445-3333, ext. 2031.
More like this story
SUBMIT FEEDBACK
Click Below to:
This Week's Circulars
To view money-saving ads...