13th annual Cowboy Collectors Gathering Show coming Jan. 23

By
Max Efrein
|
mefrein
Originally Published: January 17, 2019 9:28 p.m.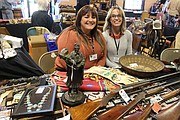 Thirteen years ago, a now-deceased Prescott resident named Larry Howard decided the area could use a miniature version of Mesa's famed High Noon Show and Auction.
He had participated as a dealer at High Noon for many years and remembered how intimate the western-focused event was before it became highly commercialized.
"All of us just missed the good old days when it was just all of us together in one room reminiscing, so Larry said 'I'm going to start a show up in Prescott so we can kind of go back to the old feel of what [High Noon] was once like,'" said Tracy Abernathy, another longtime western dealer who knew Larry well.
Larry wasn't sure if the Quad Cities would support the sort of western show he had in mind, but it turned out more popular than he thought, Tracy said. "It just really did well in Prescott," she said.
Before Larry died about two years ago, Tracy and her husband, Darryl, agreed to take over promoting and setting up the show.
This year, the one-day event will take place from 9 a.m. to 4 p.m. Wednesday, Jan. 23, at the Prescott Rodeo Grounds, 840 Rodeo Drive. It's always hosted the Wednesday before Mesa's larger three-day show so dealers from around the country can more easily attend without going too far out of their way.
"We take the opportunity to have this show while everyone is already in [Arizona]," Tracy said.
At least 50 dealers are expected to participate this year with 100 tables full of inventory to look at. Among the items will be cowboy and Native American antiques such as bits, spurs, chaps, saddles, hats, western art, Native American jewelry, Navajo textiles, beadwork, baskets, pottery and much more.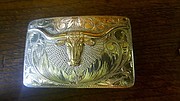 Admission is $5 and just about everything on display is up for sale.
"It's almost like being at a museum when you walk around and look at the stuff, but yet everything is obtainable through purchase," Tracy said.
Granite Mountain Smokehouse will be providing food and drinks for purchase onsite throughout the day.
And for the first time, a Prescott group of old western reenactors called the Buscaderos will be walking the grounds in their full attire from that era throughout the event.
"It will just be interesting to see a lot of people in the room actually dressed in that time-period," Tracy said.
For more information about the event, go to its Facebook page, Cowboy Collectors Gathering Show, email theprescottshow@gmail.com or call Tracy at 928-517-1142.
More like this story
SUBMIT FEEDBACK
Click Below to:
This Week's Circulars
To view money-saving ads...